Tours › 2005 › Around Kebnekaise › Day 6: II
Wednesday 14/9 – foray two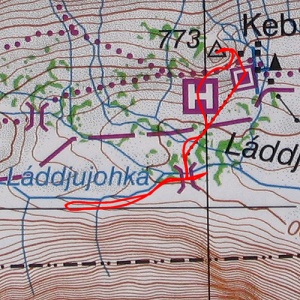 Elsa's bridge, Láddjujohka and Kaipak
| | |
| --- | --- |
| Horizontal distance: | 5.5 km |
| Vertical distance: | -100 m, +200 m, -100 m |
| Time: | 1 h 45 min |
| Lunch break: | – |
| Dinner: | Three course buffet |
| Night accommodation: | Fjeld station |
| Stage classification: | Easy |
After lunch, I set out again, this time heading for Elsa's bridge over Láddjujohka (named after the legendary Elsa Göransson, who was custodian at the station in the 1950s). This time I "travelled light" (I only brought the camera), but rain clothes were still required, and there was a northeastern wind. Just as I was leaving, "we" were paid another visit by the chopper.
There is a path that leads from the station down to the bridge, marked by signs and all, which I took. On the other side of the stream, there is a field of erratics which I spent some time exploring. One of the blocks is quite impressive, and so are the forces that cleaved it in ages past; the larger fissure was wide enough to walk through unhindered.
I then walked westwards along a path on the southern side of the stream; a route that brought me by several waterfalls of varying sizes. I met two other men before the largest of these, coming from the direction of Skárttoaivi, and then continued a bit further. I thought that I saw more wanderers coming towards me in the distance, but as they closed in they resolved to reindeer. I paused and let them pass at fairly close range, and the turned back myself.
After having passed Elsa's bridge again, I took another path heading almost due north, but that soon joined the one I had taken on my way down. However, I deviated again and started cutting across the terrain, aiming for Kaipak. Close to the main westward trail, I came upon another path that took me close by a tent, which looked as though it had not been made (or pitched) for this kind of weather.
I thought that I might just as well climb Kaipak while I was there, so I went up among the birches on its eastern slope, soon finding very well-trodden paths leading up to the summit. There a sizeable collection of cairns of all kinds waited, and it was not immediately obvious which one actually stood at the highest point (which is not that easy to spot anyway, since the top is wide and flat). In one place there was a piece of an iron pipe protruding from the ground, so I naturally had to make a pile of stones myself over it. Yeah.
Back inside, I was soon joined in my room by another couple who were also staying there. They had made an attempt on the South Peak, but had turned back once they had reached the top of Vierranvárri, due to plentiful snow. I overheard them talking to an elderly gentleman who had walked from Singi; "dense" being the keyword of the meteorological circumstances of that journey. I called the train company to reserve a ticket, but all bed compartments were full, so they advised me to try again later in the hope of vacancies due to late cancellations.
It had cleared somewhat in the east and all kinds of precipitation had stopped. I had another shower, another sauna, and another ice-cream. Afterwards, the Big Cloud™ had drifted to the west, revealing most of the surroundings (still excluding Giebmegáisi, of course). I then continued with my crossword in the common room for some time, working up a hunger for the coming dinner. I also went out on a small photo circuit, as the weather conditions seemed to demand it.
Then, at 18:30, I entered the restaurant and started stuffing myself – thoroughly, but in a controlled fashion. The food was very good:
Hors d'œuvre: various salads, herring, broccoli/fennel soup and dried reindeer meat
Main course: reindeer steak and fried potatoes
Dessert: cheesecake with raspberry sauce, chocolate cake with whipped cream
Also included: different kinds of bread from the in-house bakery, lingonberry beverage and coffee/tea/hot chocolate
From looking at the menu, I assumed that the chocolate dessert had survived the session the night before, and that wasting it had been deemed a shame.
After dinner, I went out to take some more photos; the evening was of the fair, crisp kind that only autumn can bring. In the last light, four people arrived from the direction of Nikkaluokta – I don't know if they had indeed made a late start and walked all the way, if they had a camp nearby, or if some misfortune has befallen them in transit.
I made another attempt with the ticket reservation service, but still no available beds; I decided to postpone the matter until the morrow, since regular seats were in good supply anyway. I sat through another "event" down in the common room: this time it was a lecture-cum-discussion about packing and clothing. I finished the crossword, skipped the evening snack due to the earlier stuffing-of-self, and turned in at 22:00.