Tours › 2009 › Sulitelma-Padjelanta › Day 5
Wednesday 12/8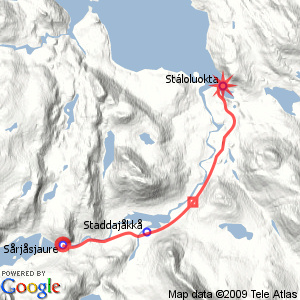 Sĺrjĺsjaure – Stáloluokta
| | |
| --- | --- |
| Horizontal distance: | 17.5 km |
| Vertical distance: | -200 m, +40 m, -60 m |
| Time: | 5 h 15 min |
| Lunch break: | 45 min |
| Dinner: | Mincemeat with rice and mushrooms |
| Night accommodation: | Cottage |
| Stage classification: | Easy |
| Map points: | Sĺrjĺsjaure, Stáddájĺhkĺ, Stáloluokta |
I was awoken by the morning chill and pulled the blankets closer, dozing off for a while longer. All three of us got up at 07:30, and were relieved to find that it was not raining any longer. Sure, the clouds were low and all that, but hints of blue could be discerned as well; a westerly wind was blowing, but it did not feel cold. After a communal breakfast a dark haze came into being in the western end of the valley, but it disappeared after a while, and the light steadily grew until the sun broke through to some degree. We all packed up, and I must say that my things had dried better than expected. When everyone else had left and I had just finished cleaning, Tobbe came in to test the integrity of the LPG system. I spoke some with him, and apparently also last time he had been here there had been seven people present, so he was establishing an unwanted standard. It was now windy indeed, so I wore the wind jacket when I left at 09:15.
A "day off" from the full pack had not had adverse effects – on the contrary, the rucksack actually felt fairly light. As I walked up onto the threshold another haze was forming over the Norwegian part of the lake system. Over said threshold the trail was not in very good condition and the ground was stony and bumpy, and on the other side also wet. Once down there the sun came out again for short periods, and I spotted the other four who were going in the same direction a good distance ahead. There was a veil before the inner parts of Badjelánnda, but behind me it had once again dissipated, and right above quite a large patch of clear sky was maintaining itself.
By crossing the Stáddájĺhkĺ bridge I entered Padjelanta National Park, and found that what seemed to be the main path did not go where the map said it did, so I followed reality instead. The Norwegian couple had stopped to check out the Staddajĺkkĺ cottages, and I did the same; there were some people living there, but none came out to talk or suchlike. I took a shortcut back to the trail, which involved crossing a boggy patch where I found the first cloudberry of the tour (it was just that: one). The land that lay before me then consisted of flat, dry grassy ground with low shrubs which reminded me of the alvar on Öland. What duckboards there were looked as though they had been laid out this summer, and on one of these the text "GETINGAR – WASPS" had been written; when I stepped on it I heard a distinct buzz, and turning back (without slowing down) I saw a swarm of wasps rising from the earth, so the warning was real.
A helicopter from Stáloluokta was approaching, and after making a short stop at Staddajĺkkĺ it flew back. I crossed Jiegŋáffojĺhkĺ on a single plank someone had put out, shortly after which I found the Norwegian woman sitting on a hillside. On the other side of the next hill was her male companion, and I myself started thinking about pausing. Behind me conditions had been improving all the while, but now lower clouds were passing in front of Sulidälbmá, and more were coming in the southwest. After passing a small pool not marked on the map I stopped on a little hill riddled with blueberries, where I immediately took out the fleece to protect from the wind before 11:45.
I sat still for a while after having lunch, even though the wind was perhaps not the best for such things, so eventually I arose and started munching blueberries for dessert. During this I was overtaken by the Norwegians, and when I left myself there was worse weather on the way from the southwest. Now the terrain had turned to hilly, but it was not long before the turquoise surface of great Virihávrre appeared between them, rain-stricken as it was. The wind had also turned so that it was blowing against me, and behind me Sulidälbmá had disappeared behind a veil; the rain out on the lake was passing behind Stuor Dijdder, but more was en route from the back.
I soon caught up with the Norwegians, who were in the process of changing into rain clothes, but I pressed on without doing anything of the sort. When I was nearing the bridge over Viejejĺhkĺ the first drops came, and I stopped to put on the rain cover, but since these drops were rather fine I went no further in that regard. However, the headwind made matters worse by slamming the wetness against my front, so after a while I turned my back at it and then found shelter behind a rock.
When it had all but passed I moved off again; the wind was still a force to be reckoned with, but it did wonders for drying my light clothes. Soon there was more rain, however, and I stood at another large rock near the top of Biedjovárátja until it stopped for real, which was not long. After coming onto Padjelantaleden I descended into a patch of birch forest – the first for several days – and then emerged onto an open area designated for camping; at the moment there were a few tents, and more were soon to be pitched. At the bridge over the outflow from Luoppal I felt drops again, and even though it was still nothing to write home about it felt good getting inside the main tourist building before 14:30.
There were quite a few people about, which was hardly surprising seeing as how Stáloluokta is for all intents and purposes the center of Padjelanta. I took off my boots and went in to check the place out, selecting an empty room in which to place my rucksack. When I was done the Norwegians had arrived, and I myself went out to see the rest of the site.
The smaller tourist cottage was of "classic" layout, but with the addition of a washing/drying compartment on one side. I walked around to get good photo angles, coming to the church hut into which I peeked; I may have severe reservations regarding what it stands for, but as a building it is interesting. It was still raining lightly so I did not extend the outing for too long, and instead returned inside to unpack some stuff and then I entered the common room. This has a grand view of the lake, which was shifting in extent and lightness at the moment (not too unusual, that).
I had some reindeer meat while talking to a couple of Germans who were doing the last stage of a multi-year tour of the full Nordkalottleden, and now they had only to go to Kvikkjokk for it to be complete. I went on to just take it easy, first at the table and then in my room, and after 16 the two wardens came in to open the reception as announced on a note on the door. Thanks to a deal between STF and BLT I had free housing by virtue of being a warden en route to an assignment, but I also had my mind set on the sauna, which is not covered by said deal, so they made another one with me: if I fired it up, I would get to use it for free.
Since the first guests were expected to want it in about an hour's time I went down to it at once; the actual sauna chamber was rather small and built in such a way that getting to the heater was cumbersome, but I could manage. Before doing anything else I went out to the nearby woodshed to produce suitable fuel for the ignition, and then getting the fire started was a piece of cake. While it was getting into shape I brought larger logs inside and also fetched some water, during which a couple of other guests stopped by to see what this little house was. The fire was now burning brightly, and I tended to it while the chamber heated quickly, and when I felt I could leave it be I did.
Rather than returning to the cottage, however, I jogged over to the encampment proper in both rain and sun, wanting to check out the little shop there. The shopkeeper was an old lady who was glad to chat along for a while, and according to her there had been much more people this summer than usual. In the end I bought a small bag of candy and then jogged back, and now there was both sun and better visibility across the lake. Back inside I started dinner immediately while talking to the other guests in the kitchen, and then sat down to eat (and talk some more).
Many of the others who were eating had opted for the local specialty – smoked arctic char from Virihávrre and fresh bread – but I contented myself with the candy as an extra treat. Having finished I went down to the sauna, located beside Luoppal, which at the moment was full of people and not too hot. When I got the chance I therefore stuffed more wood into the heater and fiddled with the air intake, and soon the temperature rose nicely. Submerging myself in Luoppal was rather pleasant, and I did it three times in total. At the moment it was sunny again, and life was good. Before leaving I swept the worst of the dirt from the floor, and then went for a little photo tour on the heights above the tourist cottages – the light was very alluring, as it often is here, and more of the surrounding lands could be seen.
When I got back indoors I went to the common room where a good many people were sitting, and I played solitaire while looking at the shifting rains on and beyond the lake. Then I took out my book and read until I felt it was time for evening snack, which I consumed with one eye on the text and one ear pointed at a conversation the two Germans were having with one of the guys who had been in the sauna. I went for one final photo round and then visited the privy – and almost expired from the extreme odor. Some undesirable smell is inescapable, of course, but damn! I was one of the last ones to hit the sack some time after 22, and outside it had started to rain again.