Tours › 2007 › Såmmarlappa: Day Tours › 19/8
Sunday 19/8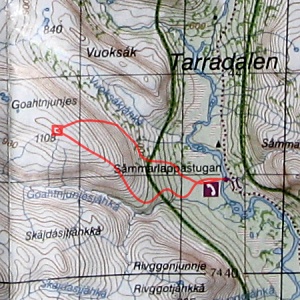 Goahtnjunjes
| | |
| --- | --- |
| Horizontal distance: | 8 km |
| Vertical distance: | +580 m, -580 m |
| Time: | 4 h 45 min |
| Lunch break: | 45 min |
| Dinner: | – |
| Night accommodation: | – |
| Stage classification: | Medium |
After crossing Darrhaädno I followed a footpath due west for a bit and then turned southwest, where the terrain was stonier but still easy to walk through. Before long I reached Goahtnjunjesjåhkå, from where I followed a faint path upwards, going through high grass and the like up onto a rise. I then continued over a series of higher rises to the brink of the deep ravine of the abovementioned stream, where I found another faint path.
I was now high enough to see that far off to the southeast the weather was fair, but over Tarradalen it was just cloudy, and it also seemed as though those clouds were lowering themselves over Darregájsse. It was still warm, however, as I wound my way upwards, every once in a while using my binoculars to check in on the cottage which was visible at all times, but nothing was afoot there. Above me some birds of prey were circling, below a cloud cover which was dropping further all around.
Eventually the slope started levelling out, and after passing a large number of intermediate crests I arrived at the top cairn of Goahtnjunjes, from which a quartet of birds suddenly escaped – they must have been as startled as I was. I could see a region of rain in upper Tarradalen, but it was passing into the north, and in all other directions visibility was rather good, even though all peaks pierced the ceiling to some extent. I sat down with my back to some rocks to have lunch around 12:15, seeking protection from a moderate southerly wind.
While I was immobile I noted a shower which was initially confined to Gurávágge, but it soon spread down into lower Tarradalen, growing bigger as it did so. There were also rains to the north and to the west, the latter of which was clearly approaching my position, so I soon got going again. I did not follow the same way down, but instead I walked northeast, coming into a region of one small ledge after another, which prompted a serpentine descent – it was very much like when I was going down from Jiegŋáffo to Viejevágge. I followed the northeastern slope – which was rather steep – around the mountain, feeling only a few light drops as I entered a sea of withering flowers on the eastern face; I literally had to wade through them. Then came a series of miniature ravines, and going was generally tricky, so when I found what looked like an easy way straight down into the forest I took it.
There among the trees I chanced upon a cloudberry mire, and I picked as much as my foldable cup would hold. Down there it was pretty warm, and when I looked up I saw that the clouds were lifting to the west, but there was no blue to be seen as of yet. I passed through a short and wet osier thicket, and then there was the familiar juniper to deal with before I found something which might once have been – or might someday be – a path, which simplified things. When I was drawing near to the water I heard the sound of the ferry's pulleys, and when I finally emerged on the riverbank I saw that there was a kid in the boat. After some hesitation he completed the crossing and we returned to the eastern shore together around 15.

« Return to Såmmarlappa report