Tours › 2009 › Storulvån-Vålådalen › Day 4
Monday 13/4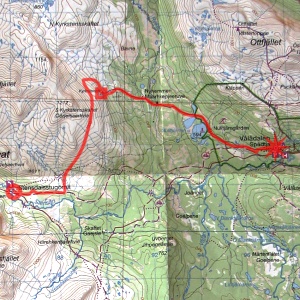 Stensdalen – Vålådalen (via Kyrkstenen)
| | |
| --- | --- |
| Horizontal distance: | 17.5 km |
| Vertical distance: | +240 m, -400 m |
| Time: | 6 h |
| Lunch break: | 1 h 30 min |
| Dinner: | Grilled panino |
| Night accommodation: | – |
| Stage classification: | Medium |
| Map points: | Stensdalen, Kyrkstenen, Vålådalen |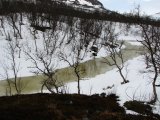 Stensån in the morning
This time the room temperature was comfortable through the night, and I slept like a log until 7-ish, at which time some of the other people in the building began to rise. I did not, however, but stayed in bed to 07:45, when I and my two remaining roommates got up – the fourth guy had changed rooms the evening before as there turned out not to be that many people present, so there was no need to crowd the rooms. Sven was just coming in with the morning weather report, which was of a positive nature, even though the ample recent rain had caused Stensån to open up; clearly the bridge was needed from now on.
There was still a cloud cover overhead, but it showed signs of breaking in various places, and soon small amounts of sunlight and glimpses of blue sky started getting through. Upon Lill-Stensdalsfjället a light fresh powder was to be seen – but not for long, obviously – and the crust of the snow had frozen well beside the footpaths. I was among the last to have breakfast and took things very easy (again, no hurry), cleaning the kitchen after everyone else had left it. Sven was still inside, doing this and that, and after finishing up I talked for a bit with him and the one remaining couple, who were also set to leave. Just as we went out to our skis an intense burst of snow passed by, but it was brief enough that when we started moving at 09:30 it was already dying down.
We departed together, but I quickly got ahead. At first the snow on the trail was very good, but it was not long before it came to the first of many bare patches. This I circumvented upon a snowmobile track going quite far off to find good snow, while the other two stepped right over the heath. All around the sun was making itself known more and more, and due to a complete absence of wind it was getting somewhat warm. The next bare patch I decided to cross, as no obvious detour was in evidence, and the snow beside the trail only barely carried anyway.
Shortly before reaching one of a handful of streams called Tvärån in the area (this one being that also known as Storjenjohke) I turn up to the left, since it was more than likely that also this stream would be open, and is in such cases usually passable higher up – and failing that, there is the bridge of the summer trail even further upstream. I also had another reason for diverting, however, and that was that I intended – if at all possible – to take the high route via Kyrkstenen (Church Rock). Again the causes were to get a more interesting trip compared to the common trail, to increase the likelihood of better snow conditions, and finally to extend the day's stage.
The sun was just coming out, and I reacted by removing my cap; it was still rather warm, but every once in a while a wee bit of wind came to the rescue. Having a free line of sight across the open area on the other side of Tvärån I saw that it held very little snow, but turning my eyes upwards I thought that I could trace a passable route up to the higher snowfields, so I decided to give it a go. The first obstacle was Tvärån itself, but a couple of hundred meters or so from the winter trail I could get across easily and safely. I then followed more or less close to the stream, since here there was a fair bit of snow still, winding around some larger areas without.
Before reaching the bridge I had to leave the stream, however, since a good deal of water was present on (and far beside) the ice. This meant crossing one bare (but very soft) area, and then I could continue with my winding exercises, going straight a bit before being able to turn towards the "corner" constituted by the southern outrunner from S Kyrkstensskaftet. The celestial dome was now clearing for real, and I got a great feeling of being between the seasons – or, rather, in several seasons at once – with the mix of conditions around me, and the spring sun strong in the sky. As I ascended the snow got better and better, and thankfully the wind also got stronger and stronger. Above Lunndörrsfjällen and to a greater extent Anarisfjällen a good deal of clouds held their position, and some low clouds were drifting out of Rekdalen as I rounded the corner.
I continued to gain height, albeit at a lower rate than before, keeping to the lower reaches of the steeper slope to the left of me. Here the snow was fantastic in every way, and skiing was a joy – especially with the very wide views before (and behind) my eyes. Ahead of me a rocky hill had appeared in my path, and I descended slightly in order to get around it, after which I continued downwards for a bit. It was actually not until now, when the view north started opening up, that I paid any particular attention to my actual position, since so far I had simply followed the snow, so to speak. Now that I did, however, it immediately came to me that I was much higher than I had perhaps thought that I would come to be, and that I also would not be able to see Kyrkstenen itself from this angle.
Now, I could of course go straight down, which would bring me almost directly to the rock, but since I knew the state of the land from my previous passage, with many small bluffs and suchlike, that seemed undesirable. Instead I continued northwards, aiming for the lesser (and smoother) slopes there, and as I did so a chilling headwind came into being, which meant that it was time for the cap again. As the slope grew kinder the snow grew more sparse, and it was on the last large snowfield that I started going down. Then it was a matter of seeking out smaller patches between which a few steps on grassy heathland were necessary, but that's fine (rocky gravel hadn't been) – in fact, I was once again struck by that uplifting feeling of the fjelds coming to life.
I emerged onto unbroken snow below a sharp drop, which I crossed at a safe distance from an overhanging drift – and then I caught sight of Kyrkstenen. I proceeded upwards in order to follow a better line across the intervening slope, which was really steep; had it been earlier in the winter, with more and different snow, I would not have attempted it, but as it was I judged that it was safe. I came right to the rock, taking off my skis at the end since the immediate area was devoid of snow, stopping at the benches close by at 11:45.
I had observed a couple of people among the trees on (or near) the marked trail coming from Vålådalen, but since no one came they were obviously heading down rather than up. Just as I sat down on one of the benches the sun passed behind a cloud, so I just relaxed for a while, waiting for it to reemerge. It was not too long before it did so, accompanied by a shifting northerly wind, and then I took out my lunch. Having eaten I applied some more sunscreen and basked a bit; it was really warm when the wind was not on. Not wanting to put on the skis again yet I read some in the undiminished sunlight, and then I composed an abridged text message to Sven, comprising a requested status report on my chosen route. Then I did put the skis on, but only in order to make a short circuit for photographic purposes, finding that the snow was getting rather soft now. So, in the end I put the rucksack on as well and carefully made my way down to where the snow started.
Going down the slope was somewhat tricky due to the softness of the snow; my skis often dug too deep for comfort. Just below said slope was a large bare area, but from above I had already espied a passable detour. The wind had disappeared as soon as I reached the first trees, so off the cap went. The snow was for the most part good, but here and there it gave way; when I came upon the trail a bit later on things got better at once, as the tracks there were rather packed. With the warmth and all I took it very easy, and enjoyed going through the sparse forest to the fullest.
Where this forest started getting denser I came to an open brook, the water of which had spread wide enough to block passage. I therefore went a short distance upstream, finding a more narrow section where I attempted the crossing – I managed all right, but only barely. Here beside the trail the snow carried almost nothing at all, and it was somewhat arduous getting back on track – which occurred among the scattered chimney ruins at Nyhemmen. Once out on the open area there I skied over to the one building still standing to have a look, and this time I also saw something which I had failed to notice last time around, namely that there was a connected LPG tube by its wall, so obviously it is still in some use.
My feet were now beginning to feel rather wet; they had felt moist from early in the day, but now it was starting to approach uncomfortable levels – and that's even without having stepped into water. Soon I got an opportunity not to do so again, for just after the hut beside the trail was another open brook, but this one was, as can be seen below, not much of a problem. Then followed a hillcrest giving good views both ahead and behind, and the quality of the trail remained good. The sun was now starting to play cat-and-mouse with the clouds in the sky, which was not unwelcome given the temperature.
Shortly before reaching the first of Nulltjärnarna I met a single man skiing without pack, and on the ice of the northern bay of the second mere another person was ice fishing. The following brook was also leaking quite a bit of water, but here it was possible to ski around it – somewhat surprisingly closer to the outflow. After that there was very little snow close to the beach where the trail went, so a side track had come into existence that stayed further into the forest, and here there were no problems.
Having reached the start/end of the car road to/from Vålådalen I considered whether to attempt to follow on the side of this road, or continue along the trail, knowing full well from both experience and recent hearsay that the latter option would land me in a problematic area later on. I resolved to at least take the trail as far as it went parallel to the road, and set off along it. The snow still showed no signs of deteriorating beyond the point of acceptability, and the sun kept disappearing more and more frequently.
When the trail turned into the forest I continued beside the road on a snowmobile track, and when this crossed the road I did the same, carrying the skis over the asphalt. On the other side this track was deep but good right up until it turned onto the road once again, but this time I kept going forward – and was pleasantly surprised at how well the snow carried. At first, that was; after a short bit I decided that going back on the southern side would be better, especially since the dedicated snowmobile trail was making a brief contact. This was also rather good at first, but where it started following a stream there was nothing but water; I took to a side track, but it was not long before it also lost itself in the wetness, and I saw fit to return to the road instead.
Here I skied on the side for a bit, but it was so soft that it simply was no fun, so when I spotted a snowmobile track on the other side, I crossed the road once more. This was just before the first buildings started showing up, and the track was steadily declining, finally being broken by muddy driveways. I realized that persisting would hold little merit, so I simply took off the skis and flung them up onto my shoulder, walking the last bit to the Vålådalen fjeld station where I arrived shortly before 15:30.
On a bench beside the main entrance I found both the couple with whom I had started out in the morning, and also my two roommates – plus another person. After a brief report of my day I stowed away my skis and then sat down myself in the sun, composing another text message for Sven about the second stage. Having completed this I remained in the pleasant sun for some time before going for a short walk; there were a fair bit of people about, and also a fair bit of wind.
I then went inside and got out of my soaked ski boots, putting on a dry pair of socks and the t-shirt. I went to have a look in the store, and read the various announcements and signs on the walls here and there, upon which I went upstairs to the rustically cozy common room where I relaxed with the help of the last of my reindeer meat and biscuits. Later on I went back out to bask for a bit on the bench, but it was not long before the sun disappeared anew, so I went up to the restaurant and ordered a grilled panino (After Fjäll, as they called it).
I seated myself in the smaller dining room where I had eaten after coming down from my warden period in Vålåvalen, and as I ate the sun returned and it was rather nice looking over the outside from there. As there was still some time before the bus to the train station in Undersåker was to leave, I flipped through the German magazine NORR which I found in a pile (nice pictures), and then read some other stuff. Now it was time to get ready, and I did just that – which unfortunately included putting the drenched boots back on... Looking towards the west I could see that it was getting rather cloudy there, so this seemed like a good point to leave; it had been a fantastic day, and a great finish to a most pleasant trip.