Tuesday 10/9

« Go to trip report

The dinner was in the form of a pre-prepared box from the freezer, so it was quickly re-prepared. The kitchen saw an inflow of more and more people, and after a sauna I returned to find a communal dinner of Rolle's in progress, which I got to participate in despite having just eaten. Due to his Sri Lankan origins it was rather hot, but pleasantly so. Now ore trains were running past again, so evidently the electrical issue had been fixed, or at least deemed safe for passage. Suddenly Cicci peeked in and announced the occurrence of aurora borealis, which brought everyone out, including most of the guests. After it had faded, restrengthened, and faded again I went back inside and eventually to bed at midnight.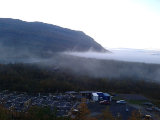 ---
Wednesday 11/9
I slept soundly as few, and awoke to a morning of rain, so the tour was well-timed. As I took care of the (very limited) dishes from said tour I found myself in a lengthy conversation with A-L, which lasted all the way up to the forenoon coffee break. After that the large hut on the yard was finally being taken down, restoring the view towards Abiskoalperna from the restaurant. The afternoon coffee break included apple pie, which was rather popular. The weather had improved quite a bit, but there was a chilly wind blowing. The evening snack turned out to be a jolly affair, with several participants even more whimsical than usual, and after doing some editorial work I turned in around 23:30.
---
Thursday 12/9
The next day the weather was back to fair, and after doing a round of laundry and taking out some of the recycling stuff I went for another shopping tour. The air was cool but fresh, and I had to remain in it a little bit longer since the shop itself apparently opened an hour later now. I found what I wanted without incident, and returned home in the same fashion.
At lunch Anna borrowed my small rucksack, which was somewhat larger than her own small one, and after fetching the mostly dry laundry I returned to work in the restaurant, after what felt like a long period of absence. The session was very calm at first, then even calmer, but eventually there was a bit of a rush. We were still more people than necessary, so Gustav and Sofia busied themselves with other end-of-season tasks. Back up in the corridor's kitchen I found Anna and Linn had made a mud cake, and was duly offered a piece. Yum. As I was going to bed at 22:45 I noted some aurora above the station's roof, but decided not to go back out this time.
---
Friday 13/9
It was a splendid dawn, and the morning was equally nice, although I of course had to spend it in the restaurant tending to breakfast. This was problem-free, however, despite a fair number of guests, and at lunchtime the weather had shifted to rain. In the evening I tried to catch some sleep, ending up with about an hour's worth of it, and eventually went out with most of the restaurant staff.
The reasons behind both those things were these: said staff had booked (or "booked") the firewood-powered lakeside sauna for an evening session, and I had the morning shift the next day. The rain had subsided to only a light drizzle, but it was a slippery slope down to the path. While the fire was re-lit (there had been guests there earlier in the evening) most of us waited outside for the rest to finish up their work and come down. The sauna itself was only lukewarm at first, but it got better later on, so that the cold embrace of Torneträsk felt like a good option. I excused myself early for the previously mentioned reason, and managed to walk the path all the way back up in the dark, slipping directly into bed at midnight.
---
Saturday 14/9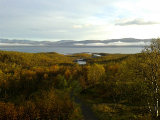 I felt pretty fine the next morning, and thankfully the numbers were quite manageable, especially after breakfast was over. After I got off I was feeling the effects of the preceding night, however, and so went out for a walk to get some fresh air.
I went down to the Ábeskoeatnu bridge and then followed a path close to the stream on the other side, coming the same way I had followed in winter, ending up at a completely dry side course just below the wind shelter. I climbed up to that and sat down to read for a bit, and then walked back up along first Rallarvägen and then the canyon path.
After resting/slumbering for a while I made dinner, and was joined by several others, which made me stay behind for quite some time as the level of fun was high. In the evening I was basically shanghaied by Cicci to visit Aurora Sky Station – the wintertime aurora-themed concept thing in the cableway's top station, which had now opened as such. Gustav and Siri also followed, and after a li'l snack we sat down at the windows overlooking the lights of Abisko to play Monopoly (what else could we do?). Robert was doing the aurora presentation for a whole host of two (2) people, so we joined in to boost the numbers, and then went back to the game, where Siri soon emerged as the inevitable victor. We were the last to go back down with the lift, apart from those manning it, and the time was 01:45 when I went to bed.
---
Sunday 15/9
I stayed in bed until 09:30, skipping breakfast in favor of the staff snack at 10. It was just me at first, but then more came, and I ended up remaining there for a good while, since the ensuing discussions were fun. In the afternoon a substantial wind picked up, and I noted that two of the four large birches outside my window had already lost all of their leaves. I had a quiet day, not doing much at all except working a bit on the upcoming issue of SFK's magazine. When I went to have my obligatory evening snack I found that Rolle was making bread, which he wouldn't let me refuse to taste, so that was that.
---
Monday 16/9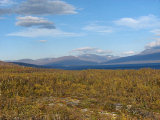 The wind remained in the morning, albeit in an on-and-off fashion, and the sky was mostly clear but thick clouds lay on the peaks. I had a few hours of simple work at breakfast, and then I considered using the long midday break to go for a longer walk. The cableway was closed due to the strong wind, so evidently there wouldn't be much use in going somewhere high lest I fancied taking flight, so in the end I decided to try for Báddosdievvá instead, and left wearing light shoes instead of boots at 11:30.

Go to day tour report »

I took it easy for a while and then had a good dinner. Down in the restaurant the others had finished most of the preparation when I joined them, and the ensuing dinner session worked like a charm despite the fact that we were one fewer than usual. Back up in the kitchen I found more people, and ended up playing Monopoly with Cicci, Gustav and Aril, and this time Gustav was the one who managed to make the rest of us go bankrupt one after the other. Bah. It took some time, though, and I didn't reach bed until 01:30.