Tours › 2013 › Abisko: Day Tours › 16/9
Monday 16/9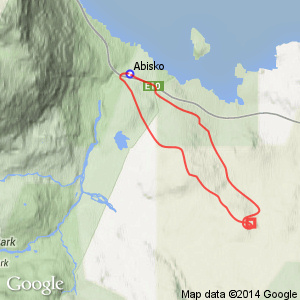 Báddosdievvá
| | |
| --- | --- |
| Horizontal distance: | 13 km |
| Vertical distance: | +220 m, -220 m |
| Time: | 3 h 45 min |
| Lunch break: | 30 min |
| Dinner: | – |
| Night accommodation: | – |
| Stage classification: | Easy |
I started out by going to the reconstructed Sámi encampment a short distance into the forest from the car park beside the train station, and inspected the old (or made-to-look-old) buildings. After that the path – which was a marked so-called naturstig ("nature path") – was good and I held a high tempo, carrying only a light day pack. In short fashion I passed the large trail from Abisko Östra, where there were a few cabins, and then walked on the path north of Bajip Njáhkájávri. There were other paths going to and fro, but small (as in really small) signs identified their headings. As I approached Njáhkáčavil the terrain grew more open, and the wind picked up.
I went up to Rävnabben, the western hilltop on this rise, from where I had a good view back the way I had come. In the other direction a mist partly obscured Abiskoalperna, but it appeared to be getting lighter. There were more hilltops to visit, marked by little signs, but I stayed on the main path from there on. For the most part the forest was dry and pleasant, but the road was starting to feel a bit long despite my rapid progress. The ground got stonier as I neared the tree line, emerging onto an open heath where the wind reigned supreme, and a whole group of parallel paths led on to an isolated hill: Báddosdievvá.
I walked up onto said hill, where the wind was even stronger, and traversed the forested top a few times before sitting down against a rock on the northern edge after 13, which was as sheltered as it was going to get. A down jacket combined with the autumn sun made for a comfortable lunch despite the wind, and I remained seated for a while. Then I walked round to the southern edge, where the wind was stunningly hard, being pressed up against the sudden obstacle in its path, and further off in the same direction Lapporten (Lap Gate) was filled with clouds. Báddosdievvá is an old Sámi sacrificial site, and looking down I saw a jumble of rocks that may or may not have been used for that purpose in days of yore.
I rounded the hill on a lower path and then followed an eastbound one for a bit until another li'l sign pointed me back in the direction of Abisko proper. The terrain consisted of sparse trees and mires, and I very nearly managed to pass them all without getting wet, but unfortunately slipped and doused my toes. The following portion was a bit unclear, but the heading wasn't, and once down in actual forest it got warm. I came to a collection of miniature greenhouses – or a least the bases of which – that were obviously meant for scientific study of the vegetation and/or climate. The last bit down to the village passed through an enormous grove of nettles, but fortunately a wide path had been cleared through them.
I came down to Abisko Mountain Lodge, and followed a newly constructed road south of the railroad westwards. This road ended up as a dirt path, which then transformed into a snowmobile trail, and when it turned south I continued on a faint path through the trees, which disappeared at a wet mire. This I rounded by picking my way through the base of the railroad track bed, which was a tangled affair, and emerged close to a few private cabins. I utilized one of the paths connected to these to get to the railroad, and crossed it at the border of Abisko National Park. I went on to cross the car road and walked along the dirt road north of it back, meeting Robert and Maya on bikes, and returned to the tourist station at 15:15.

« Return to Abisko report