Tours › 2012 › Gåsen › Day 1
Sunday 29/4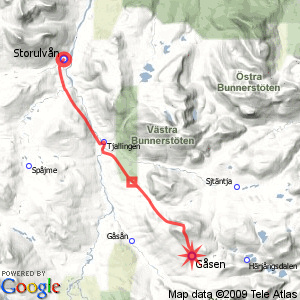 Storulvån – Gåsen (via Gåasa)
| | |
| --- | --- |
| Horizontal distance: | 17.5 km |
| Vertical distance: | +700 m, -320 m |
| Time: | 5 h |
| Lunch break: | 45 min |
| Dinner: | Bacon with pasta |
| Night accommodation: | Cottage |
| Stage classification: | Medium |
| Map points: | Storulvån, Tjallingen, Gåsen |
The sky was clear in Östersund, but around Åre/Duved there were suddenly clouds. These, however, parted again as the train headed further west, and the amount of snow on the ground increased. I travelled with the waiting bus up to Storulvån, where there were quite a few cars parked, and a good number of people about. The weather was very nice, and the few remaining clouds over Bunnerfjällen were dissipating. After some fiddling inside and outside I put on my skis and got going at 10:00.
There was a bit of wind at first, but it quickly subsided. Winter was still in full effect, and everything was white – a very marked contrast to last year. Everyone else seemed to be headed for Sylarna, but I turned off towards Gåsen; the bridge over Handölan a kilometer or so off had been rendered unusable by the sudden warmth and ensuing ice-and-water movement in March, which meant that I had to stick to the western side of the stream until Tjallingen and the next bridge, since Handölan itself was fully open.
I made my own way right from the start, crossing mires on fresh, dry snow that could just as well have been that of February. I was starting to feel warm, so I removed the cap as I skied merrily along leisurely but steadily in the friendly landscape. I arrived at Lill-Ulvån at the top of a large cornice, which I negotiated with passable grace. This stream was partially open, but there were numerous snow bridges to use, and on the other side I came upon the main track made by everyone else who had moved between Gåsen and Storulvån since the collapse of the bridge.
From there on it was mostly sparse forest, and further along the terrain grew more bumpy. As I came to the power line going to Tjallingen the wind returned, hence so did the cap. I made some tracks of my own upon the hillsides, and then arrived at the bridge. This had a wooden base, so I didn't bother to take the skis off as I stepped across. Tjallingån posed no problem whatsoever, and the open expanses on the other side were almost entirely white – also very different from last time, and, frankly, most times. There was a snowmobile track leading off in the general direction of Gåsen proper, and I skied beside it for a good while. I aimed for a well-defined rise with a bare crest, and once I reached it I sat down on said crest for lunch before 12:15, with Sylarna and Helags as a backdrop.
There was still a fair bit of wind, but it wasn't cold, so I sat still for a while. Back on the snow I headed to the east of Gåsen's northwestern outrunner for a change, going through an undulated region. I went diagonally up the eastern slope of the aforementioned outrunner, where the snow was spot-wise wind packed and really hard. I aimed for the next outrunner, the northern one, and in so doing found better snow. I also found that it would have been better to stay down in the valley for a bit longer and make a more direct ascent, but oh well. The snow was still cold, and I had to expend some effort to get a grip, higher up employing zigzag motion. As I approached the summit from the north more and more low crests appeared in the snow, and climbing grew increasingly taxing. The last bit was one large ocean of cauliflowers, but then I finally reached the top.
I've said it before, and I'll say it again: The summit of Gåsen is a fantastic vantage point. On clear days like this, the field of view is expansive indeed, with both the widths and heights of the fjelds of Jamtland in full display. After admiring this view for a bit I turned down the other side, eager to get some telemark turns. The first part was tricky, but then it got really good – before it got uneven again. I noted the presence of several people down at the cottages, and then hit another good field – in truth, the same one I had picked during my last descent here. Conditions were really good, and I could execute some fine albeit somewhat unstable turns, causing my heart rate and breathing to go up. I glided the last bit to the buildings, where I arrived at 15.
Mats the warden was standing outside together with a skating girl (as it were), and soon Simon from Storulvån also emerged with his camera; he was in the process of making a film for STF, but had noticed my descent too late to include it. The female member of the group soon departed, and I stood talking with the remaining ones for quite some time. There were just four other people present (including a two-year-old), and no more were expected. Simon is an avid snowkiter, and while Mats was given an impromptu lesson in how to handle the thing I went inside and changed out of the skiing clothes. Simon was headed to Helags, but since the wind had petered out once again he got no help from the kite, and instead started down the southern slope under his own power. Myself, I sat down in the sun and stillness with Mats, where we remained for a long while, but eventually hunger prompted appropriate action.
The kid was put to bed, and I too lay down – and dozed off. I felt rather tired, and lay still for longer than expected, but in the end it was the evening light that dragged me up again. The air was chilly lacking direct sunlight, and the crust of the snow had hardened. I took it easy inside, and received a couple of muffins from the others, which I used to strengthen my traditional evening snack. The outside light grew in saturation, and another photo round was of the essence before everything turned a cold blue, presided over by a half moon. Everyone was preparing for bed, and I did the same; it had been warm enough during the day that no fire was necessary, so I just turned in around 22:15, tired as I was.