Tours › 2011 › Helags › Day 1
Friday 22/4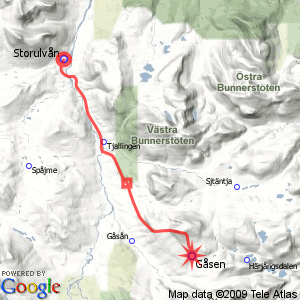 Storulvån – Gåsen (via Gåasa)
| | |
| --- | --- |
| Horizontal distance: | 18 km |
| Vertical distance: | +700 m, -320 m |
| Time: | 4 h 45 min |
| Lunch break: | 30 min |
| Dinner: | Pasta with carbonara sauce |
| Night accommodation: | Cottage |
| Stage classification: | Easy/Medium |
| Map points: | Storulvån, Tjallingen, Gåsen |
There was a thick morning fog in Östersund, but it quickly lifted. After Åre the amount of snow on the ground increased, but once in Enafors the fog was back again. The bus to Storulvån was filled to capacity, and left a quarter late. After passing the tree line it also passed out of the fog, and Snasahögarna and Sylarna stood out in all their white glory, with nothing but a blue sky above. The parking space at the fjeld station was also brimming, so that cars also lined the last part of the road.
After almost managing to forget my gloves on the bus I asked about the condition of the Tjallingen trail; at worst the dirt road underneath would have emerged, which would mean that I would have to aim for the bridge at Tjallingen – but then Lill-Ulvån might be a problem. However, I got the response that the Sámi still drove with snowmobiles over there, so everything was obviously still fine. I adjusted my garments/pack outside in a comfortable light wind, and then set out in the brilliant sun before 10:45.
Stor-Ulvån proper could still be crossed on the ice, and the snow was perfect with regard to both grip and glide. I soon overtook a loosely held-together group; since skiing was so easy and my body felt fresh I fell into a good tempo, and the sun was weakened by high thin veils, so it wasn't too warm either. Handölan was entirely open, so I crossed it on the bridge – and was greeted by hordes of lemmings on the other side. To and fro scuttled the li'l critters, having been driven up from their sheltered cavities underneath the snow by the sudden warmth, and from then on they were pretty much everywhere and everywhen.
I met some people returning to Storulvån and then passed another group of three. The trail was indeed fine, and I pressed on without much effort. There was still the nicely cooling wind as I followed the crosses, which at some point made a detour from the road. I encountered a couple of others and then spotted the first buildings of Tjallingen, close to which there was also a tent upon a hill. I passed Majabäcken on unbroken snow, and then found myself at the larger Tjallingån which was partially open, but a snow bridge still held.
On the other side there were large areas of bare heath, but I managed to wind my way between them on scant strings of snow. Just then I met two people coming in the other direction, and provided fresh info regarding the state of the trail. I turned up at a shallow angle, finding the snow good, and before long I ran into another four people coming down from Gåsen, with another informational exchange following. I then followed a sled track; I could see its creator some distance ahead. At length I caught up with him, and saw that he was pulling a child in the sled, and he also had a dog with him. From there I made my own way, turning up more when I drew closer to the trail markers. I ascended a bare-crested hill and sat down on the dry heath at 12:30.
This elevated position gave me a good view of Sylarna, behind which a few wads of cloud still remained. After eating I sat still for a while, but the wind was constant, so I slowly cooled off. The ski boots had grown wet as expected, but the break had at least dried them on the outside. Back on snow I twisted through a copse of trees and then hit a looong field of unbroken snow upon which my tracks described two straight lines. The heading was good, and save for a few softer portions the snow was as well, and later on I touched upon downward tracks. After a while I started ascending more directly on meandering bands of snow between the rocks (and some reindeer) and then rounded the outrunner from Gåsen proper. I now had a clear line of sight to the summit, and aimed directly for it. At first the crust was prone to breaking, but it soon stabilized. Higher up the snow displayed wind-affected shapes, but the surface was so soft that I just plowed through them, and at 15 I had reached the flattened top.
There were some tracks coming up from the east, but none seemed to lead off in the direction of the Gåsen cottages. I stood there for a while, admiring the view; I hold that this summit is among the very best vantage points in Jämtland for the extremely expansive vista it offers, for very little effort (especially if you start at the cottages). I then pointed my skis in the general direction of the cottages, which are hidden from view until one has descended a short distance, and set off downhill.
At first the snow was a bit tricky, but then it turned very nice, and I could telemark rather gracefully – or so I hope, had anyone been there to witness it. I cut across the slope at places to get better downward lines, and the last one I placed straight above the cottages. This last slope was also good, but some turns dug deeply in the soft snow; I remained standing, though. Some people were sitting against the wall of the larger cottage, but I made straight for the warden's after 15:15, where Mats was on the phone accompanied by two dogs (who were not on the phone).
I waited for him to finish, and then we greeted each other and entered into a long talk about this and that (mostly that). After some time we caught sight of some people coming along the Vålåvalen trail, and Mats's wife Monica and their daughter were also returning from a short excursion. Before the first-mentioned arrived I took the opportunity to procure some canned vegetables from the shop, and then went over to the larger cottage to claim a bed. The people I had seen earlier were, I think, Dutch, and were travelling with randonnée skis. Once inside I turned on the heater in the drying room, which took some fiddling, and after changing out of my skiing clothes I arranged the wet stuff for best results. It was incredibly nice outside, and the wind had lessened as well. I wrote my name in the guestbook and looked through past entries, spotting a few known names as usual. A bit later more people started dropping in, and as I went outside again even more came. I started dinner procedures, and was soon joined by almost everyone else.
In the early evening there was a steady inflow of new arrivals from the west, but there was still no danger of exceeding the place's capacity – which is unusual for Good Friday (which I had experienced myself). I went out for a little walk, which involved quite a few thigh-deep steps when the crust failed. I called Helags to reserve a place at tomorrow's dinner, and was warned that the place would probably become full – as anticipated.
I walked around some more, now in the shadow of Gåsen, and when I returned inside I had gotten two roommates. I lay down to rest as they went off to dinner, until I was lured back outside by the pretty evening light. The air was chilly but also still, and while I stood outside a latecomer arrived, saying that two more were on the way. I rested some more and after another visit outside I had an evening snack as the latest arrivals started their dinner. The snow was getting noticeably harder, so I had good hopes for good skiing conditions on the morrow. After checking on the drying stuff one last time I went to bed in a warm room after 22:30, and was joined by the other two.