Tours › 2011 › Helags › Day 3
Sunday 24/4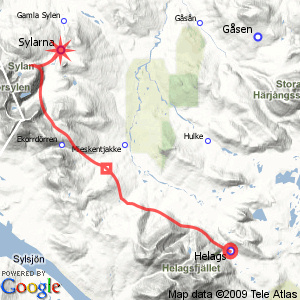 Helags – Sylarna (via Ekorrdörren/Slottsdalen)
| | |
| --- | --- |
| Horizontal distance: | 23.5 km |
| Vertical distance: | +30 m, -120 m, +120 m, -90 m, +400 m, -250 m, +60 m, -160 m |
| Time: | 5 h 45 min |
| Lunch break: | 45 min |
| Dinner: | Pizza |
| Night accommodation: | Fjeld station |
| Stage classification: | Easy |
| Map points: | Helags, Ekorrdörren, Sylarna |
I slept soundly and awoke to a terrific morning, arising after 7. Many were already up and about, and I went for a morning walk. There was a light wind on and off, and the surface snow had hardened, but was quickly growing weaker with the advent of the sun; it would hold skis for quite some time, though. I had breakfast and prepared to leave; my roommates were elsewhere again, so I just cleaned out my corners. The ski boots were almost entirely dry, which was a bit of a marvel, and the stiffness I had felt in my hips earlier in the morning was fading. After looking in at the reception, where a wind gauge said that it was blowing around 5 m/s, I set out on the next stage at 08:45, which by reports would be a bit more difficult than the previous ones due to the melting snow.
I passed the nearby open brook on a little wooden bridge and then followed the main track towards Sylarna. I had to carry the skis across the summer trail, but after that there were interconnected snowfields to ski on. I let these connections guide me, but gained altitude where I could, which worked rather well. I almost caught up with two people with a sled, but they got moving again before I reached them, and I simply gave chase. The wind was at it most of the time, and the snow carried well despite being very soft as I skied across nice, long slanting fields beneath the cliffs above. When the other two chose a lower route I continued on my high one, going further up and still finding good snow. Others had also found good snow higher up, it seemed, for there were turning tracks coming down from the hollow east of the northern summit (1704).
Eventually, though, our paths intersected, and we stopped to talk; they were Norwegians who had come this way the day before, and were now attempting to remember where they had skied then. We took turns at the lead for a while and then came to an open brook where we split apart again, me going upstream, and we all found passages almost immediately. We skied in parallel some distance apart before reuniting at a snowmobile track going around the next, larger stream, but as I ascended Lijnietjoele the others broke off in a more northerly direction, aiming for the trail north of Hammaren.
I, however, had more or less come to the decision that I could just as well aim for Ekorrdörren directly, since I was already so far west of the other trail that going back to it felt like a detour. The higher I got the stronger the wind became, but skiing around the outrunner was very nice right up until the crest, where the snow suddenly turned into mush that carried nothing – and then disappeared entirely. This was just beside a large cairn marking the top of the northern shoulder of the rise, and I thought it a good place to stop for lunch after 11:15.
Before sitting down, however, I walked a little ways onward to check out the next valley, seeing that Åerevedurrienjohke was also open, but there were several good passages in view. I placed myself in the shelter of the cairn, which was necessary for the wind had grown much in strength, and took off my ski boots to see if I could entice the sun to dry the soles (and my feet) a bit. Unfortunately said sun was passing into some small, high veils which diminished its power, and more were on the way. Once on the move again I took the skis on my shoulder across rocks, grass and a bit of wetness until I reached a good snowfield leading downwards, and I got some fairly good telemarking out of it. I chose the upper one of the passages I had espied from above and found myself in a snowy, hilly landscape. I went up the slope on the other side diagonally, coming close to the trail from Nedalshytta at the sharp bend and followed beside it from there.
Having passed the crest I saw some people ahead, and soon it became clear that they were attempting to get a ski kite going. I crossed the trail and aimed straight for the base of Templet, wanting to spend some quality time with the Sylarna massif now that I was so close. The slope just east of the mountain with its characteristic trio of pinnacles made for some great telemark turns, which unfortunately also returned the boots to all-wet conditions. I saw two people traversing the lower slopes of Slottet (Castle) up into Tempeldalen, and one other fellow was skiing out of the valley – and looking in the other direction I also observed my previous two companions coming down from the pass between Herrklumpen and Kläppen.
I rounded Slottet as high up as I dared, keeping safety margins with avalanches in mind, meeting two others going in the other direction a bit further down. I made my way up into Slottsdalen, stopping when I reached the first crest which gave me a grand view of the main peaks of the massif. Having attained this sight I turned down again, getting some more nice telemark out of it before coming onto a well-utilized track which I followed to the station after 14:30. Sylälven was open in many places, but the passage I came to still held, and I increased my speed for the final portion, just barely beating another skier who was arriving from the south.
The guy in the reception gave me a free choice of living quarters since there were not that many guests; they had "only" had around a hundred the day before, which is to be contrasted with the two hundred from the year before. Late Easter indeed. I installed myself in the twin room I had chosen (and not paid for, thanks to my work as a warden) and as usual went straight to the drying room. I called to make reservations for the return journey now that I knew for sure when it was to occur, and then went to the dining room with its trademark outlook on the massif to sit down for some afternoon tea; it was rather windy outside, so I opted for the inside. I talked some with one of a pair of newcomers, getting some tips about the route to Storulvån, and then prepared a dessert that needed some time in the fridge.
After that it was sauna time; not many others had found their way there, but people were still in the process of arriving to the station. After that I lay down to read in my pleasantly cool room, and after sitting outside the dining room for a while I went into the shop and bought myself a pizza, which I threw into an unoccupied oven. It was now much nicer outside, and I spent some time there while the pizza heated, finally sitting down with the two people from previously in the day to eat.
I had just beaten the rush in the kitchen, where some groups had embarked upon considerably more ambitious endeavors than others, so I went out again. The evening sun was slightly weakened and there was still some wind, but it was ok. I sat on a bench watching a kiter do his thing, and then watched as a couple of members of the fjeld rescue service passed by from the south. Back inside I sat down in the "hearth corner" to read, and was soon surrounded by off-duty staff. One of the girls from Helags had also made it over after finishing up her own duties in the morning, and was now headed to Storulvån, debating with herself whether or not to go for it straight away.
Soon all the others disappeared into the dining room for waffle-related purposes, and I finished reading and then went to have an evening snack myself (no waffles, though), finding the hall much less crowded than before. Back in my room I lay down to read some more in a rather comfortable bed, and as I turned in before 22:30 I noted the shining light of the Blåhammaren beacon.