Tours › 2011 › Sarek › Day 4
Wednesday 10/8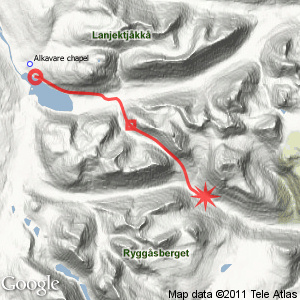 Álggajávrre – Luohttotjĺhkkĺ (via Niejdariehpvágge)
| | |
| --- | --- |
| Horizontal distance: | 14.5 km |
| Vertical distance: | +400 m, -320 m |
| Time: | 5 h 30 min |
| Lunch break: | 30 min |
| Dinner: | Pasta Provence |
| Night accommodation: | Tent |
| Stage classification: | Easy/Medium |
It was another rainy night, and in the morning the clouds were low. It was not too cold, however, and as the morning progressed the rain subsided and the clouds lifted slightly. After breakfast a blue hole appeared overhead, and I spent some time deliberating whether or not to go for the rain clothes; the weather was very hard to judge at the moment. The gusty wind had blown the tent almost dry, but I did not expect the same to be true of all the osier I was to go through at the start, and in the end I decided to wear the rain trousers together with the wind jacket when I left before 09:45.
There is a discernable path leading through the thickets, and as I walked upon it I noticed a distinct ache in one of my toes, so I soon slipped into a mode of walking that alleviated it as much as possible. There was some mud and other wet patches, and from the sky there still fell a few drops. As the path turned it became more difficult to make out, and I ended up going my own way at times, but a bit later it got better again. The valley ahead was filled by mist, and from it came more drops, but still nothing worthy of particular note. Two people were moving in the opposite direction holding a higher course, evidently attempting to evade the osier altogether. As the bushes faded I followed a reindeer path close to Álggajĺhkĺ, and when said stream divided itself I set about crossing it. The first course was easy enough, but the next one proved too deep; walking both up and down did not help, so in the end I thought I might just as put on the sandals and do a proper ford for a change. I passed the remaining courses at once, and then sat down on the heath up on the other side to dry my feet.
Those last arms would have been passable also in the boots, and turning my eyes upstream from where I now was it looked like such a crossing might have been possible there as well, but there still may have been a deeper canal hidden from sight somewhere. Just as I was about to leave I discovered that my mobile phone was not in the compartment where I had placed it, and after a fruitless search with frantic undertones I thought to look inside the rain cover – and, sure enough, there it was. Phew. I rounded another thicket and passed over small grassy ravines before coming to the larger ravine containing Niejdariehpjĺgĺsj.
I found myself just below a large canyon, and across the ravine there was a prominently placed tent. I had to go downstream a bit to find a suitable crossing place, and only managed after placing some rocks in the water to use as a springboard. After clearing the ravine I walked straight up the slope, passing the tent where no one seemed to be home. I passed around a steeper part, and then slowly made my way up towards the crest. Drops had been falling for some time, and now they increased in both size and frequency, so I stopped and used the rucksack and hat as shelter as I waited for the rain to subside. Soon it did so, but even though things were getting lighter behind me the upper parts of Niejdariehpvágge were all hidden in a haze. When I came to a large rock before 12:30 I huddled down behind it to have lunch.
I soon got cold from the wind and continued light rain, so before starting to walk again I made some hops on the spot to get warm. I also changed into the rain jacket, even though it soon seemed to be getting lighter again. The terrain, which up until then had been mostly grassy, turned stonier as I drew closer to the watershed – and suddely there appeared a Finn. He had camped down in Sarvesvágge and gave me some tips about the coming parts before we went our separate ways.
The ground now consisted of nothing but stones of varying sizes, some of which were a bit slippery. Once past the watershed I ended up in an area which was a bit too steep for comfort, and attaining a better route was not entirely simple. I followed the growing stream until Sarvesvágge and Luohttoláhko sprawled out before me – bathed in sunlight, no less. I started out on the eastern side, but then switched to the western one where the ground was less stony, only to return further down when conditions were reversed. The western parts of Sarvesvágge were affected by mist, but more and more of the peaks across Luohttoláhko was emerging.
I reached Sarvesjĺhkĺ right between the inflow of the stream I had been following and that of the glacier stream from Ridájiegŋa, and here it almost looked like it had formed a shallow lake. The bottom mostly consisted of something resembling quicksand, however, so I could not get across, but just a short bit below I found more stable conditions and soon I was on the southern side. Turning eastwards I came to a low hilltop from which I had a grand view of the valley, and the nice weather reinforced it.
I then came to the glacier stream from Nuortap Luohttojiegŋa, and found it rather swift. I followed it downstream, spotting a place where a crossing looked somewhat favorable, but it was difficult to tell since I could not see the bottom because of all the silt. There were no better places before the confluence with Sarvesjĺhkĺ, so I went back to the first one and switched to the sandals again, determined to make an attempt – and in the event that I could not get across there were passable campsites on this side.
I proceeded calmly, carefully feeling around where to place my feet among the large stones on the bottom, and as it turned out it was not that deep, but I of course had to watch the current. It was absolutely freezing, though, and despite the fact that it was not at all a long crossing I could hardly feel my feet when I reached the other side. I climbed the brink at 15:15 and came up to a very welcoming field of heath and grass – and knew that I had reached my next campsite.
I pitched the tent still wearing the sandals, and had some trouble aligning it properly in the fairly strong wind, but finally managed to get it just right. There was a wee bit of rain during this procedure, and just when I was done more was coming from the west, so I dived inside the shelter of the tent. The wind picked up several notches and the rain drummed against the canvas while I wiggled out of my walking clothes and chewed on some reindeer meat. Soon both the rain and the wind lessened somewhat, but now there were more clouds about. After dinner I read in my book wrapped up in the sleeping bag, and even though the wind was weaker on the whole there were hard gales every now and then. All the peaks were covered by clouds, and the temperature was dropping rapidly. I had a quiet evening inside the tent as more and more clouds rolled in, and then made some more heat-generating hops before going to bed around 22:30.