Tours › 2011 › Sarek › Day 6
Friday 12/8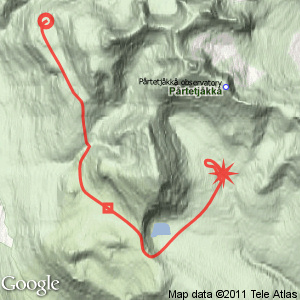 Loametjåhkkå – Sähkokjåhkå
| | |
| --- | --- |
| Horizontal distance: | 13.5 km |
| Vertical distance: | -240 m, +180 m, -160 m, +140 m |
| Time: | 5 h 30 min |
| Lunch break: | 30 min |
| Dinner: | Chili con carne |
| Night accommodation: | Tent |
| Stage classification: | Easy/Medium |
I slept well, waking only to put on the cap. I got up at 7, and the temperature history graph on my watch showed that it had been around freezing during the night. There was no ice now, however, and neither was there much wind. I spent some time outside, again climbing the hill for the view; there were quite a few clouds about – especially around the peaks – but on the whole things seemed pretty good. There was fresh powder quite far down on the higher rises, and the air was cold. More clouds came rolling in at a higher level, and as I struck the tent the first of the day's snow showers hit. However, since it was cold these were dry, so I chose to walk in the wind dress and gloves, leaving at 09:30.
I started out by going over to the campsite I had seen earlier, finding it very good – the view would certainly have been better there, but on the other hand it was much more exposed to the wind. Noted for future reference. From there I proceeded over several low rises closer to the edge of the shelf, walking first on mostly grass, and then mostly stones. Both the clouds and the flakes varied in terms of presence and density, but neither showed signs of giving up. Then the stones increased in size, and I found myself climbing the little flattened outrunner at 1260m – had the weather been clear my idea was to cross Ruopsokjåhkå high up and proceed up Bårddetjåhkkå via the 1425 pass, but with the current cloud base (which I judged to be at around 1600m) that was all but ruled out. I therefore turned down again, finding the first portion a bit tricky with small ledges, winding my way between rock fields.
Ruopsokjåhkå flows in a deep ravine which in its lower parts is impassable in all but a few places, and the stream itself is also a known potential obstacle, and I was now aiming for the second lowest of the four passages I knew of, right below the inflow of the stream from Ruopsokvárásj/Tjievrra. Now the snow has turned into a drizzle carried on the wind, but as yet I saw no need to change attire. I followed a somewhat steep grassy slope down to the ford, and in so doing spotted another crossing just above the tributary's inflow. My chosen ford was simple indeed, and I just splashed across in my boots. Once on the other side I went up the slope at a shallow angle, passing an area of small bushes, a tongue of rocks and a spring, and then the slope started levelling out and walking was very easy. It was getting warmer as I turned east, going up the hollow between Tjievrra and 1220. Here the ground was a mixture of grass and stones, and I stopped for lunch by a rock after 11:45, just before it turned wetter.
There were drops in the wind again, so I put on the rain jacket at once. Soon the drops turned into grains of snow, and I waited it out before starting to walk again. By then I had changed back into the wind jacket, and although the wind had increased things were getting lighter on the whole. I proceeded up to the edge of Tjievramåsske, from where I had a grand view of the lowlands to the east, where the weather seemed clearer. I checked out the eastern slope at several places, but it was simply too steep to descend, so I walked towards the fragmentary path marked on the map, intending to go down the northern side of Sähkok.
This path seemed to have been marked with standard-ish cross marks, which was surprising since it lies within the borders of the national park, but I never got close enough to inspect them first hand. Instead I whipped out my phone and found the signal strength to be more than adequate, so I could leave a couple of progress reports. As I was now closer to the eastern end of the range the clouds were less prominent, and Boarektjåhkkå was visible in its entirety. I went down at the first opportunity, which was a route I had seen from afar, and although it was steep at places I had no problems.
After walking through a cold wind from the western precipice I came down on dirt displaying stone patterns. I crossed the stream from Tjievrajávrre, which flowed in many small channels, and then started up the gentle slant below Tjievrra itself – an aptly named fjeld (the word means "gravel"), as usual. The sun was out on and off, and at times of no wind it was rather warm. The ground grew stonier as I climbed several low ridges, and in the middle of it all another shower hit – light rain this time. The flat top of the rise was pretty stony, and the rocks continued as I approached Sähkokjåhkå right opposite a marked "nose" in the slope of Bårddetjåhkkå. It was just too deep to be easily crossed in the boots there, and I started off upstream in search of a better place.
The rocks lining the stream were wet from recent precipitation, and I had to be careful. I saw several places where a crossing was almost possible, but there was always one short stretch or another which would get my feet wet. At long last I found a spot where it looked like it could work, and making the attempt I found that it did indeed work. I returned downstream, since there were areas of grass about where I had first made contact with the stream; where I now was there was nothing but rocks. A light bout of snow/rain later I passed a couple of dried-out tongues of stones, noted a possible but suboptimal patch, and after another non-dry brook I ended up on the grassland I was aiming for around 15. I looked around for a while, eventually deciding on a nice-looking patch of soft grass.
It was very windy as I started putting up the tent, but I got it aligned perfectly. However, I had to make allowance for a non-movable rock which had ended up right at the entrance, but it worked out alright. Apart from the wind the weather was getting better, and right above my position I could see the plateau of the Pårtetjåkkå observatory. I had been a bit anxious about getting water, since there were a lot of rocks to be traversed in many places in order to reach Sähkokjåhkå (and I like to wear sandals when camped), but it turned out that my chosen location allowed for a fairly simple route down, so no worries. To my surprise my phone reported full signal strength from within the tent, so I had the automatic fjeld weather service at my disposal.
After dinner the wind got stronger still, with powerful gales, but the tent didn't budge. The clouds were slowly lifting, and although it was pretty nice outside it was also cold, which was strengthened by the wind. I called the weather service, and was told that the next day was expected to be clear, which boded well since I intended to pay a visit to the observatory. I spent most of the evening inside, reading, solving crosswords and playing solitaire. The wind shifted in power, but remained in play – and remained cold. It was a rather fair evening, with a cold moon to boot, and the lack of a cloud cover promised a cold night, so I slipped into some snug clothing before going to sleep around 22:15.