Tours › 2010 › Unna Allakas: Day Tours › 6/7
Tuesday 6/7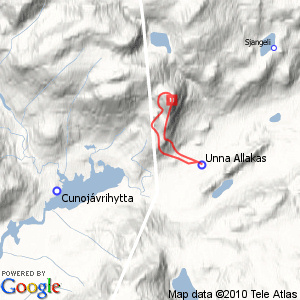 Ruovssuk
| | |
| --- | --- |
| Horizontal distance: | 6 km |
| Vertical distance: | +440 m, -440 m |
| Time: | 5 h |
| Lunch break: | 1 h 30 min |
| Dinner: | – |
| Night accommodation: | – |
| Stage classification: | Medium |
I walked the tarn path longer than I had before, and it was clear for fairly long, even with a few small cairns, but then it petered out. I made my own way up onto a small hill, negotiating some shrubs, and then passed west of the farthest tarn. The rock wall of Ruovssuk looks more or less inscalable from a distance, but close up it is clear that there are grassy passages, and I aimed for one of those. Here there were quite a few flowers of various kinds, including such which would already have waned further south. The sun was warming nicely, so I proceeded up calmly; walking was easy on the grass, and the slope was not as steep as one would have thought. Off to the east Abiskoalperna had emerged in full, but Godučohkka was still piercing the clouds. I followed a natural way up between the cliffs higher up, and judging from the marks in the ground this was also a path utilized by reindeer at times.
I came up onto a lower crest and was immediately hit by a fairly strong wind, and looking westwards I saw that the clouds were still present in Norway, cutting the peaks of Storsteinsfjell in half. In the other direction the landscape had had a sort of familiar feel, and it was only now dawning on me why: I was reminded of the eastward view from Kutjaure, with Abiskoalperna playing the part of ŃhkkŠ and the Godučohkka group that of northernmost Sarek and Gisuris, with the vale of Aliseatnu corresponding to the "Swan Valley" in between.
Reaching the next rise was easy enough, but then I had to sidetrack a bit to get around the one after that, because of some steep stony sections; this also included a short bit of "climbing" past a small precipice. I now stood at the foot of the last rise to the summit, and it was clear that the easiest way would be to attack it from the west, where it was grassy and not so steep, but since the direct route looked OK I opted for that. The very last portion was a bit more arduous, but I had no problems, and before noon I had reached the top cairn – which curiously enough stood upon a patch which might well have supported a tent.
Here the wind was considerable, and I put the fleece jacket on without delay and then stood gawking at the incredible view. The clouds were slowly lifting over Godučohkka, and further off to the southeast higher peaks were visible above the intermediate ridges. I walked over to the northern part of the top, from there I saw that RuovssokjŠvri was almost entirely covered by ice still, but now SkŠŋgalanjŠvri was free of it. I stood up there and paced back and forth for quite some time, and after surveying the land with my binoculars (detecting no movement, as usual) I finally sat down behind the cairn to eat – and found that it actually offered quite adequate protection from the wind. As I sat there the sky grew clearer, and soon enough most of the peaks within eyeshot could be seen in their entirety, but in the far east things looked much denser. The wind was growing both stronger and colder, and after using the shelter of the cairn some more I started walking again.
I went downwards on gently sloping ground in a western direction and then turned south on grass, going alongside another melting snowfield. Suddenly I caught sight of a very green patch next to a pool of water produced by one such snowfield, a short distance above a small tarn, and went over to check it out. It was both even and dry, and even though parts of it had a bit of a slant it could well have hosted a whole group of tents – and the view wasn't bad either. The sun was passing into more clouds coming from the southwest, but it still shone upon large parts of the surrounding land. I went out onto a small adjacent crest from where I proceeded down a bit westwards – and spotted another green surface. This one was both wet and bumpy, however, but a bit further down there was a small hollow through which a rivulet flowed, and this sported a perfect meadow.
I continued out to the edge overlooking the valley, and started picking my way down the steep slope beside a bush-covered gully. This consisted of ledges which for the most part I could circumvent, but some parts were rather steep. Eventually I found myself among the bushes, and after crossing a miniature brook on wet and slippery moss I reached grass interspersed with juniper. It was exceedingly beautiful, and the sun and the warmth had returned to bring out the best of it all. I aimed more or less directly for the cottage, taking a short break at times, and when I was approaching the familiar tarns I had to cross some low shrubs again. I returned to the little path via some small mining sites, and was back home at 15:15.

« Return to Unna Allakas report