Tours › 2019 › Vindelfjšllen › Day 3
Friday 26/7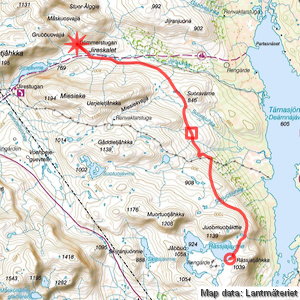 RŠssjajŠvrrie – Glimmerstugan
| | |
| --- | --- |
| Horizontal distance: | 14 km |
| Vertical distance: | +40 m, -100 m, +40 m, -180 m, +40 m, -60 m, +80 m |
| Time: | 5 h |
| Lunch break: | 1 h |
| Dinner: | Mashed potatoes with dried sausage |
| Night accommodation: | Cabin |
| Stage classification: | Medium |
| Map point: | Glimmerstugan |
A fairly considerable easterly wind had suddenly arisen in the early night, but it gradually subsided and was gone by morning. Using the sleeping bag as a duvet only worked well until the wee hours, when a slight morning chill made me enter it for real, sleeping until the sun started warming the tent once more. I got up at 07:15, wearing (only) the wind dress against the mosquitos, but the wind was back at it which helped things further, and the sky was entirely clear. I had breakfast on the rock, still accompanied by the seagull, and then packed up in a leisurely manner as the temperature rose. This time I elected to wear the light wind trousers as I left after 09:45, but I kept the sleeves of the thermal underwear shirt rolled down to protect my somewhat reddened lower arms against sunburn.
I followed the shore, walking calmly over bumpy, stony and wet ground, and then started ascending the little rise hiding the small tarns just east of JuobmuobŠkttie. The outflow was easily crossed after which I followed a reindeer path up between the next couple of low rises, granting me a very extensive vista of TšrnasjŲn and the fjelds beyond. There was a large snowfield covering most of the eastern slope of JuobmuobŠkttie just above and ahead, but below it was a very inviting shelf which I had been aiming for.
I descended on heath and between some stones to the very pleasant grassland making up the shelf, and it was truly a joy to walk there, even though some areas were a bit wet due to the melting snow above. I made another, shorter descent along a gargling brook and after having reached the end of the snowfield I started slowly ascending again, watching a rough-legged buzzard take flight close by.
I crossed SŚrjuosjuhka easily on rocks just above a waterfall and then followed the shape of the terrain over the next little outrunner, from which I had a good view of the beautiful dell that lay ahead. Traversing said dell would involve passing a reindeer fence, and I could see both the fence and what looked like a large section where it was missing, so I started going down across the slope in the direction of the would-be passage, doing some zigzags along the way.
I caught motion ahead and upon getting closer I found that it was neither a fox nor a reindeer, but in fact two elk calves. One of them appeared to be sick because it lay motionless until I was almost upon it, then walking just a short bit away before dropping to the ground again, all while its sibling(?) looked on from a distance – and there was no sign of a mother anywhere (which I carefully looked for, lest I end up a target of parental wrath).
As I approached the fence through shrub thickets it was clear that what I had seen from afar was simply a section of darker fence poles, with the metal mesh intact between them. There was, however, one place close by where the mesh had sunk enough that I could just swing my way over one leg at a time, after which I followed a reindeer path up out of the partially muddy thickets on the other side. I then crossed the subsequent heathland to the quite audible stream that was up next, only to find that it flowed through a deep ravine. I looked a short bit downstream at first, but quickly decided that a better bet would be to go upstream to where the ravine was rockier but shallower.
There I could carefully make my way down to the water, then carefully across the water on partially unstable rocks, and finally even more carefully up out of the ravine using a passage I had seen from the southern side, with the help of a hand or two. The next bit offered a clear reindeer path as well as a pleasant wind, and after an easy brook passage I eventually sat down on a flattened rise for lunch at 12:00.
The wind came and went, as did the insects, and a few clouds had started appearing in the sky as well. After the lunch break I continued on another reindeer path to the next stream, which offered no difficulties, and then shifted between a multitude of paths most of which seemed to be intent on turning too high up the slope for my taste as they went. Without wind it was now extremely hot, and going was tougher also because the ground held low shrubs almost everywhere, so I took to sploshing across wetter areas just to facilitate progress.
Suorajuhka turned out to be calm and deep, so I went down to a place where it splashed over flat rocks to find a crossing, which I could eventually and unconventionally effect by way of climbing straight up across said rocks right in the water. Then I followed yet another reindeer path up to the saddle between SuoravŠrrie and UerjeletjŚhkka, from which I had a good view of eastern Jireskalet and the impressive bastion of Tjuhkale.
I traced a hollow downwards and then cut across the slope, going a bit to and fro to avoid various terrain features, suddenly landing on the path that traverses the valley – it was not very clear, but there were semi-regular marking cairns, and it was enough to make walking noticeably easier. There were a few wet patches as I made my way into the nice valley of Jireskalet proper, and it was still very warm. I had been seeing Glimmerstugan, the goal of the day, for quite some time, and when the path had passed an elongated ridge hiding Jijrajuhka from view, right after the inflow from the stream from MŚskuosvajjŠ, I turned down and aimed for the cabin.
Apparently most of the water of Jijrajuhka was coming from said tributary as well as that from Stuora VajjŠ, for getting across it was rather easy, and then it was just a matter of following the tributary upstream, where a series of reindeer paths helped. It was after 14:45 when I climbed the last crest and was greeted by the exquisitely located little abode with a terrific view of the valley in both directions.
I went inside at once, finding the place both empty and rather warm, as well as fresh and cute, and then paid a visit to the well-kept privy. I relaxed for a while out on the stairs, which were pleasantly shadowed, and then went to have a bath in the nearby little side brook, where I found a bathtub-like formation perfectly suited for the task – and it felt perfectly great. I went on to read through the guestbook inside, judging by which Glimmerstugan is not a very popular target – but a loved one by those who do find it, myself included. Outside it was very warm and very beautiful, and I could see no movement anywhere. I made dinner inside but ate it in the nice windy shadow on the stairs outside.
In the early evening I read a bit on said stairs, but now the insects were numerous enough that I had to keep swatting to maintain composure, and the sun was clouded every now and then. Eventually I had enough and went inside to continue reading, where the temperature was now manageable, but when the sun finally reemerged from a large, immobile cloud above the closest summit I returned outside for a photo walk in the pretty light.
It was, in short, a fantastic evening, and a now northerly wind combined with the final loss of direct sunlight made for noticeably cooler conditions. I solved some crosswords and then had an evening snack inside, and after looking some more at the clear, splendid evening over Jireskalet I went to bed (literally) around 22 in a room that held on to the day's heat.