Tours › 2019 › Vindelfjällen › Day 6
Monday 29/7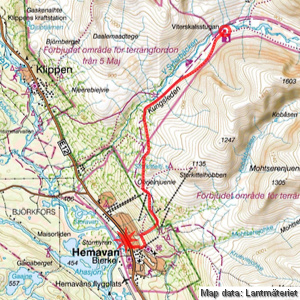 Viterskalet – Hemavan
| | |
| --- | --- |
| Horizontal distance: | 10 km |
| Vertical distance: | -80 m, +100 m, -380 m |
| Time: | 2 h 45 min |
| Lunch break: | (none) |
| Dinner: | – |
| Night accommodation: | – |
| Stage classification: | Easy |
| Map points: | Viterskalet, Hemavan |
A cold wind kept blowing through the night, and the clouds had merged into an unbroken sheet. When I got up at 7, having lain in bed for some time while several other parties started their respective morning procedures, said sheet had descended a bit to cut off N Sytertoppen, but there were lighter patches here and there (albeit no sun). I started packing up and then went to have a sturdy breakfast. As I finished packing I observed a group of reindeer high up the slope across the stream – the first I had seen during the tour, actually. The temperature was markedly lower than I had gotten used to, and having finished various chores I set off at 09:00 wearing the hiking trousers, but not the wind jacket despite the continued chill of the wind.
The path was good, as expected, and I made similarly good speed. The wind was at my back and did not bother me, and the rucksack felt very light. I met a couple going in the other direction before reaching a large alluvial area riddled with harebells, and all around the terrain was mostly one of rolling, green heathland. At the suspension bridge over V Syterbäcken, which I crossed last time around, there was a newly built privy, and on the other side of the stream was a tent with four occupants.
From there the trail started ascending, and as it did so the wind lessened. I met a single man with a dog and then more and more of the views ahead started appearing as I exited Syterskalet, which displayed a very nice valley scene behind me. I passed a family of three with a dog who had spent the night in a tent at the cottages, and soon thereafter a lightly clad runner. The ascent was longer and somewhat steeper at times than I remembered, and as I got higher the wind returned. Another two path-bound encounters followed, and I also passed a group of tenters who were just breaking camp.
The wind increased in power as I walked between and over a network of small hills with interspersed osier, all the time on a well-trodden path, and now the number of other people on the trail was high enough that I started to lose count. This state of affairs intensified by an order of magnitude (or so) as I passed Öörjelnjuenie and started descending to the top station of Hemavan's cableway, which was running at the moment; apparently a good many people had chosen to avail themselves of its services, most of whom were heading up Kungsleden.
As for me, I eschewed said services, and after a short pause continued on the trail, which soon entered a sparse forest. I had a plan as to which route to take down to Hemavan, not feeling the "need" to walk Kunsleden to its end this time, but the summertime nature (in both senses) of a ski resort made it difficult to see just which paths, swaths, slopes and dirt roads were actually included on the map, and I ended up (clearly) missing my intended departure from Kungsleden. That wasn't that big a deal, though, since there were plenty of alternative routes, and when I found another, marked path heading straight down the slope I took it.
This descent was mostly easy, but some portions were steeper than others and went through rather dense forest at times – which also saw the gradual return of insects. As I reached a bridge over a gushing stream I realized that I had ended up on my originally intended route after all, so I left the markings I had been following and started along another marked path that led through jungle-like vegetation out to the middle of a flowering ski slope. There I walked down under the lift cable until I reached a side road that led to an area of existing and under-construction residential buildings. I came down to the E12 in short fashion and, as planned, then had only a couple of hundred meters to go to what amounts to the local shopping center, where I arrived around 11:45 after an uncomfortable stretch on hard asphalt at the end.
Said center was a true such, with vibrant commerce and boatloads (well, carloads) of people, many of whom were Norwegian due to the closeness to the national border. I sat down at a bench-and-table outside and relaxed for a while before having the last of my food – I had prepared for a field lunch in case I found a good spot earlier and/or was somehow delayed, so there was no point in having it go to waste. I then went inside the nice-looking grocery store to acquire some food for the return journey and changed out of the thermal underwear shirt, which was by then rather rank, and then sauntered over to the adjacent bus stop as my last act in Vindelfjällen this time.