Tours › 2013 › Vadvetjĺkka › Day 1
Saturday 7/9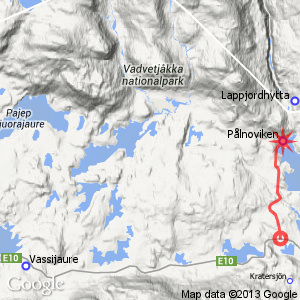 Báktájohkaluobbalat parking – Pĺlnoviken
| | |
| --- | --- |
| Horizontal distance: | 6.5 km |
| Vertical distance: | +40 m, -40 m |
| Time: | 2 h |
| Lunch break: | – |
| Dinner: | – |
| Night accommodation: | Tent |
| Stage classification: | Easy |
| Map point: | Pĺlnoviken |
The bus driver wasn't interested in having me pay for this short trip, and I remained at the front of the bus talking to him for its similarly short duration. By request he dropped me off at the parking space at Báktájohkaluobbalat, where Nordkalottleden continues north; there were a few cars parked there, but no people around. It was almost clear and the sun was warming, but since the wind was appreciable I kept the wind jacket on as I left at 16:45.
The trail was in pretty good condition and the rucksack felt fine, as did my body, so I could hold a good tempo. After the first bit over a semi-open rise the path descended to a mere, and here it started getting stony. Next up was the sizeable Njuoraeatnu, on the other side of which the trail went steeply up the brink. The sun was hiding behind the few remaining clouds for long periods, which kept the temperature manageable. The path was not that well trodden in places, but there were markings on the trees.
There was another very steep climb over another rise, shortly after which a quickly moving shadow resolved into a dog the two owners of which I soon met. They were out on a day tour from the road – one of the cars there was theirs – and were now on their way back. The path then drew close to the water, stretching across the steep brink, and after faintly smelling smoke in the air I suddenly spotted Pĺlnostugan between the trees at 18:45.
I looked inside and found a trio of local elk hunters who had arrived by boat from Tornehamn. I talked a bit with one of them (the other two were resting), signed the guestbook and then excused myself from the powerful heat of the room. Instead I pitched my tent on a nice patch of soft grass closer to the water, after which I sat on the nice pebble beach for quite some time, looking at the view across the grand lake towards Lapporten. The wind had died down and it was a very nice evening, which saw the last of the clouds shrink back. As dusk grew the lights of Abisko stood out in the distance, and having gotten my fill of the view I went to bed at 21:15.