Tours › 2006 › Around Sylarna › Day 7
Sunday 12/3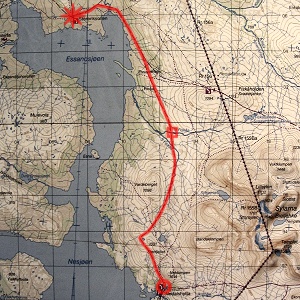 Nedalshytta – Storerikvollen
| | |
| --- | --- |
| Horizontal distance: | 19.5 km |
| Vertical distance: | +200 m, -250 m, +40 m |
| Time: | 5 h 45 min |
| Lunch break: | 1 h 15 min |
| Dinner: | Mincemeat with macaroni |
| Night accommodation: | Mountain cabin |
| Stage classification: | Easy |
| Map points: | Nedalshytta, Storerikvollen |
It was a bit cold in the bedroom when I got up at 07:15, but in the common room it was warm. Outside, there was a light wind, and it was clear as usual. I had breakfast before the trio got up, and was ready to leave while they were still at the table. They were headed for Stugudal in the southwest, so our communion was at an end.
I left at 09:30, and faced the usual warm feeling during the first bit in woodland, but just as usually the wind increased as I reached higher ground. There were interwoven day-old tracks of both snowmobiles and skis – there was the rescue service from the day before, and I also knew from the guestbook at Nedalshytta that a group had gone to Storerikvollen earlier that day. The snowmobile drivers had also apparently been putting down temporary marking sticks where the primary markers had fallen over, or simply been altogether covered in snow.
Once I had passed Stenfjellet, I had an unobstructed view of the Sylarna massif, the western profile of which is vastly different from its eastern one. There were nice sceneries in other directions as well. A gentle downhill slope then followed, ending at the southern branch of Fiskåa, where it was completely calm. I had worked up a hunger by then, but I continued on to the northern branch, at the crossing of which I found a much appropriate rock beside the trail to camp by.
I sat down at 11:45 and started boiling water for the freeze-dried cod and potato casserole I was to have. Not long after stopping, I heard some characteristic sounds coming from the north, and soon a couple of skiers appeared. They stopped out on the frozen stream to adjust their clothing, and I discerned enough of their conversation with each other to recognize that they were Swedish. Having stuffed myself, I sat back and just relaxed for a long time in the bright peacefulness. The time was nearing 13 when a light breeze picked up, and I started packing my things.
I didn't put the microfleece top back on, however, since I judged that it would only get warmer. And right I was – after just a few kilometers I also removed the cap, and exchanged the gloves for the thin mittens. I skied along in the tracks made by the couple who had passed me earlier, but just at the long, narrow promontory at Essandheim those tracks broke off from the marked trail, heading down towards Esandsjøen. I stayed on course, however, and I could also see that the trail coming from Sylarna a bit ahead would bring a new set of snowmobile tracks.
The distance from that crossroads to the next, just after the Djupholma bridge, was the warmest yet, but once I got there the wind had picked up again, and I put the cap back on. The remaining kilometer and a half felt somewhat lengthy, with nothing much of interest going on before I finally spotted a roof. The ache in my right ankle had also worsened during the last half hour or so, and it was with a mental sigh of relief I took off the skis outside the designated off-season residence building at 15:15.
I was the only visitor present, but the guestbook revealed that the house had been brimming the night before, when a group tour arranged by TT had made a stop. The building itself was rather large – two stories with two bedrooms and a large common room each. The kitchen was downstairs, though. I walked around a bit on the premises, and saw that there were people in another cabin situated off to one side, behind a minor fence – perhaps a private residence – and a snowmobile left as I watched.
I went inside again and attempted to start a fire, but that proved to be a difficult task indeed – there were some strange issues with the firewood. I saw a handwritten notice saying that the pre-arranged piles were raw wood, and were to be used next winter, but there were no less than four individual deposits inside, so I was unsure which it applied to. The indicated storage box for the firewood meant to be used was outside, and, as it turned out, not properly sealed – there was snow and ice all over the logs. All in all, this meant that even maintaining a small flame was troublesome, and getting larger pieces to combust was near impossible. After a while of doing what I would do under normal circumstances, I ceased trying and decided to defer continued attempts until after dinner – the cabin was quite warm already, and the sun wouldn't be setting for some time yet.
The snowmobile had returned to the perhaps-private cabin, but soon departed again, carrying two individuals this time. There was smoke coming from the chimney, though, and there were skis stuck into the snow outside, so I probably wasn't all alone. I went to fetch water at the indicated spot, and then prepared dinner – the gas stove was lit with ease, at least...
After my meal, with the sun gone, I made a concentrated effort to get a fire burning, carving thin sticks to feed the shaky flames and really being active in adjusting the conditions for combustion. It was still very hard, as the frozen logs were very reluctant to do anything but sizzle and generate lots of smoke, but I kept at it. At the very least, a good deal of heat was produced in the process. I also found the time to call my brother, who celebrated his birthday; the phone was functional again, but the battery was somewhat unstable. I got through, though.
After about an hour of hard work, enough embers had been produced to bring the combustion temperature up to a level that, when given the correct ratio between confinement and air supply, the half-burned logs inside the heater suddenly burst into flame. From then on, with careful additions and rearrangement, I had a steady fire burning. While I would have managed a cold night with ease (especially with all the blankets available), it certainly felt nice to have achieved that fire, for coziness-related reasons if naught else. However, since much of the thermal energy went to vaporizing the water in the logs, the heating effect wasn't as high as it could have been, and the entire house was a (very) large volume for a single source to warm up anyway, so I sat myself down right beside the fire and read in quiet.
When night had descended fully, and the full moon was up as usual, I went out on a photo tour. Seeing Sylarna bathed in moonlight was really something. Once back inside I returned to my place by the fire, and resumed my reading. Later I had my evening snack, and also made advance preparations for the morrow. It wasn't until the last half hour or so that I was up that the fire in the heater was burning at a "normal" rate and intensity, so I could put on a couple of logs for the night. Not that it would have that much of an effect anyway, considering how much air there was to heat, so I placed one of the thick blankets within reach of my bed, into which I climbed at 21:45.