Tours › 2006 › Around Sylarna › Day 8
Monday 13/3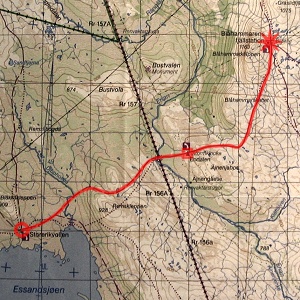 Storerikvollen – Blåhammaren
| | |
| --- | --- |
| Horizontal distance: | 15 km |
| Vertical distance: | +70 m, -90 m, +330 m |
| Time: | 4 h 30 min |
| Lunch break: | 1 h |
| Dinner: | Three course buffet |
| Night accommodation: | Fjeld station |
| Stage classification: | Easy/Medium |
| Map points: | Storerikvollen, Endalsstugan, Blåhammaren |
Just as expected, the early morning was cold, so I extended my arms to grab the blanket, which once placed appropriately restored comfort and enabled me to finish the night without the need for extra clothes. I wiggled out of bed at 07:00, and found that the temperature in the heater-containing common room wasn't too bad. The outside temperature wasn't either, but there was a strong southwesterly wind, and that it was completely clear failed just as completely to surprise me.
I started another fire (or fizzle), which I got to grow slowly and start eating into a few thinner logs, but I didn't put that much effort into it this time as I would be leaving soon anyway. Instead, I concentrated on breakfast. As I was packing up, the wind had abated substantially, and the sun was doing a good job of warming things. I cleaned out the rooms I had used, and then went to fetch more firewood from the storage box. I took those that looked the least affected by snow and ice, concentrating on the more delicate pieces and splinters, and placed them on the floor by the residually warm heater, in the hopes that whoever came next might have better starting conditions than I had.
I left before 09:30, and was a bit anxious about the seeming lack of wind during the first bit; I felt much warmer than what was comfortable. Consequently, I stopped at the first trail split to remove the micro fleece shirt, put on the mittens instead of the gloves, and change into the thinner cap. Once the trail started to climb Remskleppen, I removed the cap as well. When I got high enough to exit the forest, however, the wind picked up again, and up on the plateau it was every bit as strong as the smoke rising from Sylarna indicated, so I switched the gloves and thick cap back.
A nice downhill run followed, and then I was at Enan, shortly after which I reentered the Kingdom of Sweden in an entirely uneventful and insignificant manner – in the fjelds, national borders really are nothing more than arbitrarily drawn lines on a piece of paper. Down on the lowland, the wind was gone again, and I took off some covering items afresh. I met a man skiing in the opposite direction, and then arrived at Endalsstugan at 11:15. This is a shelter that was established by residents of Trondheim in 1930, as a sign of gratitude for the rescue of a group of Norwegian tourists a few years earlier by the Swedish fjeld rescue service. A storm bell was installed as well, and still stands.
I set up my camping stove inside and started preparing lunch (chicken sweet and sour). I hadn't seen anyone else when I arrived, but very soon a foreign guy opened the door. He had thought that perhaps "I" was his friend, who had gone on ahead, so I suggested that the man I had met down in the slope might be the one he was looking for. Not long thereafter a larger group of Frenchmen and -women pulling sleds reached the shelter, but they only made a shorter pause before continuing towards Storerikvollen. I hope they did all right with the firewood...
My own pause was hourlong, and when I set out again the wind had grown more keen. I judged that the effort involved in climbing the remaining 300 meters in altitude would keep me warm, so I didn't bother to put the shirt I had removed in the morning back on. Up on the flat stretch directly east of the shelter, there were very strong winds coming from the side, and I had to expend some energy to ensure that I remained in a vertical position. This wind was reduced when the trail crossed a stream, but gradually grew again at the sharp bend further ahead.
From that point on the tracks the French group had made just a short while ago were already on the verge of being covered in snow, and the powerful gusts and gales that came and went demonstrated why. There was a constant hard wind at my back all the way, and it went up a few notches more at the last steep incline; had the snow on the ground not been as hard packed as it was, I probably wouldn't have seen a thing. Then, a bit sooner than I had expected, the station appeared.
I stood at its door at 14:00, but I remained outside to take some photos of the various nice views offered. Up there on the crest, the wind was even stronger, and I had to lean heavily against it in order not to fall over; just walking around was really tough. Even though the properties of the terrain facilitate such forces at that precise spot only, I was still glad to have been skiing with the wind this day. Having satisfied my curiosity, I went inside and approached the reception.
After deliberating with myself I had reached the conclusion that given my plans for the rest of the season, it would be in my best economical interest to acquire another discount card, which I might just as well do now that I had the chance – they're only sold at the fjeld stations (or via snail mail). I also planned on "paying" for my stay at Blåhammaren with it, since the special discount offer had expired the day before. But, flabbergastingly, neither in this place the staff knew what to do! I sat down to read a bit while they investigated the matter, and was finally granted the purchase. At least this time the given price was correct...
Since there were very few guests – this being a Monday – I got to reside in a room in the main building. These rooms are decidedly smaller than those on Sylarna, but comfy and all that anyway. The window frame wasn't wholly tight, though, so the storm kept blowing in small amounts of snow, but it never got past the board, so no worries. There were a couple of people present, but they seemed about to leave again; this was also confirmed by their entry in the guestbook. Three people then arrived from Sylarna, one of which was part of a larger company but had gone on ahead, being pulled by two dogs.
I had a well earned sauna together with a father-son unit, who had been on a tour to Helags. Afterwards, I sat down in the common area beside the reception to read, having a light snack so as not to spoil my appetite for the grand buffet to come. I also observed a lone figure heading off towards Storulvån, which looked like a strenuous task under the circumstances.
Just as the last time I visited Blåhammaren, we were five people who sat down at a single table to have dinner – me, the father and the son, the woman with the dogs, and a companion of hers. As it turned out, the latter company had originally consisted of five, but one had been injured during a bowling session (!) just before leaving home, and then another had fallen on the hard snow a short distance before the Enkälen shelter when skiing from Sylarna earlier in the day. Another companion had accompanied the unlucky person to the infirmary in Åre, which left only two remaining travellers. There were also another pair who had made a reservation and left Sylarna that morning, but ended up in Storulvån instead, and finally one man who suffered from a (much) delayed train and wasn't able to arrive in time.
As always, the food was of the upper tier of excellency, and I had to rein myself in not to overdo things. This time, the menu was as follows:
Hors d'œuvre: various salads and mixtures, tomato soup
Main course: "salmon in Jämtlandic fashion" including a fabulous sauce, and potatoes with dill
Dessert: chocolate mousse with blackberries and whipped cream
Also included: different kinds of freshly baked bread, water and coffee/tea/hot chocolate
There was a recommended white wine which the others elected to try, but I contented myself with a cider instead. I did have a glass of Lakka cloudberry wine for the dessert, though. Inevitably, the five of us entered discussion after discussion about past exploits, amusing anecdotes, serious proposals, etc. – informal settings in environments such as these make for a high-spirited, unconstrained atmosphere.
The storm was still going on later in the evening, and it felt good that I didn't have to go out to the auxiliary building. I spent some time reading, and reduced the evening snack to a single biscuit, for obvious reasons. I then lay resting on the bed for a while, before coming to the conclusion that I might just as well get into that same bed and proceed properly, so I did just that at 22:30.