Tours › 2006 › Kvikkjokk Circuit › Day 5
Friday 4/8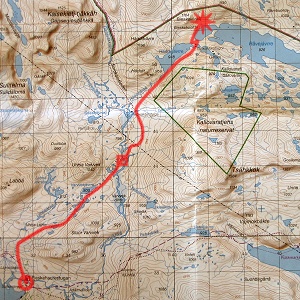 Pieskehaure – Råvejávrre
| | |
| --- | --- |
| Horizontal distance: | 22 km |
| Vertical distance: | +400 m, -60 m |
| Time: | 6 h 30 min |
| Lunch break: | 45 min |
| Dinner: | Beef goulash |
| Night accommodation: | Tent |
| Stage classification: | Easy/Medium |
| Map point: | Pieskehaure |
I slept soundly, and when I got up at 07:00 the weather was every bit as fabulous as it has been thus far. I had breakfast inside and started packing without much delay, while the three men commenced their last day of fishing. There was no wind, and no clouds to trouble the sun, so I rejected the shirt again; after the first few kilometers I would be going in almost the directly opposite direction compared to the day before, so I reckoned that my right side could take some UV rays as well. It was not yet 09:30 when I left.
I immediately came across the others down by the bridge over Varvvekjåhkå right next to the cottage, where they had taken up casting positions. On the other side, as the terrain slowly began to rise, there was a light wind, and walking was very easy. In the lower part of the actual slope up into the vale between Labbá and Stuor Varvvek, where the trail passes close to a stream, I saw some old remnants of a bridge; the present one is several hundred meters further downstream. Just after that, a reindeer calf suddenly appeared on the trail, and after the initial burst of curiousity it turned on its heel and lead the way for a bit, before it decided to go off on its own business. The terrain had a constant upward slant, but it was not substantial enough to cause hardship, or even be particularly noteworthy. Quite on the contrary, the trail was very easy to walk on, and the surroundings pleasant, although a number of airplanes kind of disturbed the sense of unspoiled wilderness.
I then came to a structure which was clearly a (wooden) bridge, but which was not marked on my map; I wouldn't reach the first one that was for several kilometers yet. Beside the trail a bit further along I found a natural moss-covered bench in a boulder, which just looked made for sitting on, so I did just that for a while, having a bit of chocolate and water. Once I got going again it felt quite hot, so I was glad I had chosen not to wear the shirt. I came to another bridge which was not supposed to be, and then, when I finally reached the bridge that was marked, I found it to be broken.
That didn't mean squat, though, since the low water levels made crossing the brook in question a simple matter of putting one foot in front of the other. I passed another none-bridge, and then found that the second marked bridge was also broken – this time it had even been pulled from its original setting and placed as a heap of timber a bit from the brook! Continuing was as easy as before, of course, and I soon found myself at the larger (metal) bridge over the significantly larger Varvvekjåhkå – that, at least, was whole. I sat down with my back to a rock on the western brink to eat just after noon.
There was some wind again, so I put on the shirt; I also didn't want to expose my naked skin to the sun for too long. On the other side of the bridge the path was not as evident as it thitherto had been, but on the other hand the trail markings were almost excessively clear. The ground was both stonier and wetter as well, but progress was still easy. I noted the point where the old trail joined the new one, coming from Varvvekråhto where the old Varvek hut had been. Formerly there was a small cabin close to that location, but it is no longer included on maps of the region. However, earlier in the day I had seen a structure of some kind just where the cabin was supposed to be, so perhaps it is still there, only too deteriorated to serve as shelter.
Returning to the present, a few kilometers later there was an easy ford of the lower, wider part of Gállojåhkå. Shortly after that, I turned up the slope, aiming for Hádditjávrre; the land was hilly in the small scale, and riddled with boggy patches. Climbing felt very warm at first, but then the wind picked up again and cooled me off. As I drew near to Hádditjåhkå a faint path appeared, which I followed for a bit, but it kept disappearing and reappearing. It was more clear at the crest, where I first caught sight of Hádditjávrre, but soon it split up into several tracks, each fading in and out at highly irregular intervals. In fact, it is likely that those paths were made by reindeer and not humans, but that was mostly of academic interest as they took me in the exact direction I wanted to go anyway.
The terrain slanting down to the southern shore of the lake was very uneven, and after a while I descended to the water. A little ways later, in a patch of wet sand, I saw a number of reindeer tracks, but the ground was too dry and coarse in all other places to retain any kind of marks. Soon I had to climb the slope again, since the incline down by the shore grew too steep; going was not really difficult per se, but somewhat demanding just the same.
A bit later I saw the reindeer-watching huts at the eastern end of the lake, and as I got closer there were some paths which albeit still faint I could be reasonably sure had been made by human feet. The huts were all locked up, and there was nothing to indicate that their owners had been there recently. I passed them by, and went out to the edge of the cliff that separates Hádditjávrre from the considerably larger Råvejávrre, and scouted for a suitable camp site. When I thought that I had found one, I followed one of a large number of paths going around the rise atop the cliff, and then went straight down to the shore of Råvejávrre, which in that area consists of fine sand.
I forded the stream that flows down immediately east of Bieskevárásj without difficulty just above where it splits into many arms, and climbed up a bit on the other side. I looked things over, for a while considering to pitch the tent on one of the multitude of grassy islets formed near the lake (as can be seen, somewhat fuzzily, in the bird picture below), but decided against it; instead I found a very nice patch of mostly even heath a little bit upstream, close to the brook, and set about camping after 16:00.
I dug down the heat-sensitive food items in the ground, and then had some reindeer meat. The wind was keen but the weather fair, and I just relaxed for a while, doing some neglected stretching. I then made dinner, which I ate inside the tent. The sun did its best to make an oven out of said fabric construction, but the wind enabled sufficient ventilation for me to be able to remain inside, where I went on to play solitaire and read in my book.
When the sun disappeared behind the neighboring fjelds, temperatures dropped quite noticeably, and I changed into some other clothes more suited for the occasion. I continued to work on my crossword for a bit, and then I went out for a short walk in the refreshing evening. Upon returning I solved some crosswords constructed by others, and then had a real snack this time. By then the wind had subsided a good deal, and some thin whisps of cloud had found their way onto my part of the firmament. I went to bed after 22, reading for a while before turning in.