Tours › 2008 › Mĺrma › Day 5
Wednesday 27/8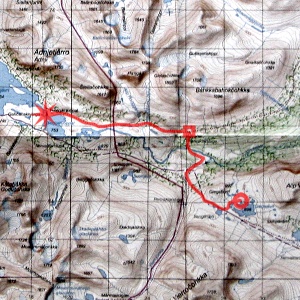 Giegajávri – Pieggaluoppal
| | |
| --- | --- |
| Horizontal distance: | 15.5 km |
| Vertical distance: | -260 m, +180 m, -60 m |
| Time: | 4 h 45 min |
| Lunch break: | 30 min |
| Dinner: | Chicken curry |
| Night accommodation: | Shelter |
| Stage classification: | Medium |
| Map point: | Pieggaluoppal |
It came.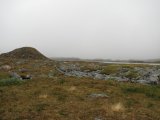 All the weather forecasts beforehand had spoken of bad weather this Wednesday, and unfortunately they were correct; there was a light but steady rainfall in the morning, and all but the closest hills were hidden in dense fog, but at least there was no wind. I went up around 7 and had breakfast halfway inside the tent – the rain was petering out (for now), so no full shelter was required. The clouds were also somewhat lighter, but the fog came and went. Soon the rain started afresh, and I retreated inside and started packing; had the weather been good my plan allowed for a day tour up Rássebávttáščohkka but there was obviously no point to that now, and on the other hand things were not so bad that staying in the tent all day felt justified either. As I looked over the map once more the rainfall turned more intense, and I simply waited it out in the tent, doing some sudoku puzzles in the meantime.
After a while things seemed to improve, giving me glimpses of Báhkkabahokčohkka and Alip Vealevárri, but the rain continued. I packed up everything but the tent, and sat listening to the rhytmic drumming of the drops on the outer fabric, intent upon a change heralding, well, a change. Eventually I grew impatient and went out, and as a matter of fact the rain started to diminish just about then. As I struck the tent only a few drops came, but I kept the rain clothes on when I left at 10:30.
I made my way between the hills close to the water, turning towards the trail when the opportunity arose. In the slope after Giegaborri the deteriorated path got better, but on the other hand the vegetation increased in quantity and height, so I hoped that my boots could withstand the wetness which surely was only to get worse – and as if to reinforce the point the rainfall increased. I saw two people making their way towards Mĺrma close to Vierrojohka, and I sure did not envy them as conditions in that direction remained worse than anywhere else.
The bridge over said stream was an older, wooden construction, and shortly after setting off downstream on the other side I ran into two men coming the other way. They had had some thoughts about going via Mĺrma, but with conditions as they were they had decided to take the old trail to Alesjaure instead. I jostled my way through some trees in ascending onto a little plateau which in fair weather would have given a good outlook over the vales of both Aliseatnu and Vierrojohka, but now there was not much to be seen. Soon enough I found myself in a little forest rich in underbrush, and then followed a somewhat slippery slope down to the Aliseatnu bridge, which is of the metal-suspension type.
On the other brink dense forest took by, and the ground was very wet with lots of puddles of both water and mud, and circumventing them was often difficult or impossible due to the tangled mess of (doused!) branches and shrubs all around – and the fact that many of these branches shot out across the path several meters above ground certainly did not help things. Having more than once (or twice, or thrice) wished for a machete, I finally emerged into a clearing housing a house (for reindeer-watching, as usual), and from there the ground was much drier and the vegetation substantially sparser, so now progress was easier.
Before long I came onto the trail from Kaisepakte, but I was looking for a hut supposedly in existence just around there, so I followed another path that went up a bit further – and almost immediately I spotted the old construct. Its shape is not excellent, lacking door and windowpane as it does, with more than a few cracks in the peat cover, but it did very nicely as shelter from the current rain, and I stepped inside at 12:30.
I had lunch and checked on my condition; it appeared that apart from perspiration from the inside I was still as dry as I could hope for, which was good since I knew that the following bit would likely be tougher in that respect than any thus far completed. Suddenly I heard some faint noises from outside, and another lone guy popped his head in to say hello; he had walked through Lapporten (Lap Gate) and had just like everyone else coming that way I had spoken to during this trip found the route very exhausting, especially with the recent wetness. This was precisely why I had elected to turn west at this branch point, and head towards Abisko on known paths.
The other walked ahead while I rested for a bit longer, and having done so I donned the pack again and set off along the trail, walking straight across the nearby stream very easily. This area/place where the hut lies is called Vuopmegeahči, which translates to Wood's End, but that was not entirely true for on the other side of the stream the worst forest I have ever had to walk through enveloped me – the path itself was consistently clear and easy to make out, but the vegetation was so high, rich and dense (and wet!) that at times it felt like I was fighting a live opponent in some strange battle. After what felt like an age in itself I emerged onto an open stretch of heath, where I could see what little the low clouds allowed me to see of the landscape ahead, behind and around – and I also spotted the other guy a good bit in front of me.
This alleviation did not last very long, for soon there followed another like battle before the vuopmegeahči finally came in earnest. For a bit the ground was easily trodden and I made good speed, noting that the ground-level vegetation was getting steadily higher – and then it all turned into dense osier covering all the land, which took some effort to penetrate. Lulip Hoŋggánjira put forth no problems, and its companion brook Alip Hoŋggánjira was hardly worthy of being called a brook at all. Following the cliffs these two brooks come down over the ground finally changed into extensive heathland, and I could stretch out my steps.
Around here was the place where I came down from Šiellavággi three years ago, and in case of good weather I would have climbed into that valley and eventually traversed the length of it to Kungsleden, but since visibility was very low and the stage thus far had already taken so much time and effort this was out of the question now. Instead, I had long ago set my sights upon the Pieggaluoppal shelter, which I had liked so much last time around. The only feature that stood out in my memory of this portion was a short, small brook starting in a mire beneath Šiellačohkka, so it was with the joy of first discovery that immediately after this I stepped onto an immense flat region of heath, which would be perfect for a camp of any conceivable size, but of course I wanted to proceed all the way to the shelter.
The rain was still at it, even though it was long since it could be called anything but light, and from time to time there was some wind. The trail then went below, upon and on the side of a series of long gravel ridges before coming out onto the low slopes above Bieggaluoppal. Here I caught up with the other hiker at a brook, and we talked a bit about our respective continued plans; perhaps he too would make for Pieggaluoppal, but he was still undecided, and I went on ahead. A bit more osier followed, at the end of which I broke off the trail and headed straight for the shelter, coming across a few cloudberries which immediately found themselves in my digestive tract. Just as the little building(s) came into view a tepee did the same, and walking past it I heard voices from inside, but the shelter itself was empty when I opened its door at 15:15.
When I reemerged after checking out the inside – which was decidedly more ordered and fresh-looking compared to my last visit – I was greeted by a dog, and three ptarmigans were hanging in the storage shed, so obviously the tepee people were fowlers. Then these people – three in number – also emerged, along with the rest of their dogs (four in total), and we chatted a bit. They had flown in by helicopter a couple of days ago (which was apparent already), had found the fishin' much better than the fowlin' (cannon balls a-roarin' did not enter into the discussion), and were to be picked up in the afternoon the next day. Since it was still raining we soon retreated to our respective shelters, and I endured without changing my clothes for some time yet, wanting to give the thermal shirt a chance to dry from my body heat.
After a while one of the other three popped in and promptly offered (demanded) to produce some firewood for me, but I had no plans of making a fire; the scant supply of firewood (hopefully) found at the various official shelters is intended for emergencies, and since I was in nothing of the sort I certainly could not justify consuming a fair bit for comfort alone.
I should here mention that I had already decided to spend the night in the shelter rather than camping outside as I did last time, as long as no other people arrived later who were in greater need of it than I was – and, strictly speaking, doing so is also prohibited. However, simply lying on one of the benches surely does not damage the building in any way, and all other things being equal I cannot see how this should be blameworthy, or even discouraged. The general prohibition may well be aimed towards wintertime abuse, where the link to firewood consumption is much stronger, and then there is a real danger that selfish actions may endanger or even cause the loss of lives – but as neither factor was at play I did not feel particularly roguish in placing a loose claim on one of the bunks.
I finally decided to change into some dry clothes, and having just done so the other returned with a heap of firewood I would not be using. Some conversation with him and one of his comrades followed just outside the door, and now a little bit of improvement could be perceived in the weather conditions. They then turned to fishing in the rapids between Áhpparjávri and Bieggaluoppal, while I returned inside and turned to sudoku instead. As dinnertime drew near the nearby ridge of Ádnji crept out from the clouds, and during the preparation and ingestion of the meal itself I read through the guestbook, finding both my own name from 2005 and that of a warden colleague from 2007.
After dinner I went out for a little stroll, going over to the rapids where the smooth rock faces were precariously slippery with rain, and then made a circuit of the premises. Back indoors I took out the map again and then read in my book, and now a small patch of blue had appeared above Šiellačohkka. Crosswords and solitaire followed, and then I felt it was time to put on more clothes as the temperature was sinking noticeably. I went on reading in what natural light remained and then had my evening snack, and now at long last the rainfall was subsiding. One of the trio was out doing some evening fishing, and in the tepee a warm light was making the whole cone shine with a subdued glow. The time was 21:45 when I lay down to sleep, opting for some clothing to retain warmth throughout the night.