Tuesday 15/7
I slept soundly through the night, being woken by a substantial thundershower at 07:30, and the rain continued for some time yet after the lightning had passed. The morning progressed slowly, with me talking with Hĺkan as he cleaned out the warden's room, resulting in my receiving one paper/item after another to look through. The rain had long since passed on, leaving shifting clouds in its wake, and I could have a summery lunch in the sun.
A single American man had arrived, being in the early stages of a full Kungsleden trek, and Hĺkan and I talked with him for quite some time about this and that while the swabbed floor dried. Eventually I could start moving in, and my first order of business was to remove all the stuff stored for the shop from the warden's room, instead placing that down in the storage building to make room for my food and suchlike. There were some more day visitors, including an elk which had apparently been making rounds before. At one time I think there was a dozen people outside at the same time, and most of them utilized the shop as well – despite the fact that all the candy and similar quick-and-good things had long since been sold out.
Finally, when things appeared to have quieted down, I took over the money box from Hĺkan, and formally assumed the custodianship of Vistas. I went through the on-site material, including the shop, making mental notes of things that needed attention, and eventually took a dinner break.
A shower passed over Šielmmáčohkka, but the real kicker was quickly approaching from the south, and before we knew it a very heavy (but rather short) rain with accompanying thunder hit, darkening the world almost to the point where artificial light was needed. After it had passed a family of four arrived from the same direction, having been caught up in it, and even though they originally planned to tent they ended up sleeping inside. The streams had risen noticeably with the recent rain, and conditions were still unsteady when I went to bed at 22:30.
---
Wednesday 16/7
This the second morning came with both cloud and sun, but the prognosis spoke of rain later on. I waved goodbye to Hĺkan and Kerstin, and then set about cleaning a table I found under the building; the warden's room had none at the moment, and I really can't do without one. It was rather difficult to wriggle it into said room, but in the end it turned out alright; it was larger than necessary in the small space, sure, but it was manageable, and much better than having nothing at all. A couple of geocachers stopped by and (with some trouble) located the local cache before continuing on towards Tarfala, and the family had all but decided to remain for another night to dry up properly and rest.
Speaking of drying needs, the rain was just starting, and from then on came in bursts. I rearranged the shop, earning quite a bit of space which I reallocated for better grouping and display, and by the time I was done the sun was out again, so I could have afternoon tea out on the west-facing bench. It didn't take long before the rain returned in force, however, and now people had started arriving, but as none were staying I got to relate some tips and info regarding their respective continued routes. As I was just starting dinner procedures a Belgian family of six plus a dog arrived, which meant that the lower cottage where canines are allowed was now filled to capacity, since that was were the Swedish family already resided.
During dinner the weather had improved, but there were lots of clouds in play, creating quite the light effects. There was more intensive rain in the evening, but still only in the form of showers, and as I entered bed at 22:15 after a quiet period the clouds had broken up once more.
---
Thursday 17/7
There was more rain during the night, and it was still falling on and off throughout the morning. After checking in with my guests I took advantage of the doused vegetation and lit the garbage incinerator, which was chockfull since Hĺkan had not dared to burn anything due to the previous exceedingly dry weather. Both families left around the same time, the larger one aiming directly for Tarfala – quite a steep (literally!) task, even without four children (and a dog). Luckily for them, the weather steadily improved during the day, and in the early evening it was outright fair.
I had had a couple of passers-by, as well as a handful of overnight guests – two of whom were off-duty wardens – but I had ample time to bake a cake that turned out very well. More clouds moved in around the peaks in the evening, but things looked a bit lighter (despite, you know, approaching dusk) as I hit the sack at 22:15.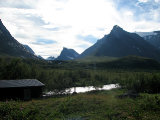 ---
Friday 18/7
The day started out well weather-wise, but rather than making use of it for day tour purposes I elected to produce some fresh bread. This also turned out well, and while it cooled off I thought that I could at least go out for a little lunch walk, and did so at 11:30.
I wore the slippers (with their heel bands), walking through the extensive campsites across Visttasjohka – that area can hold a whole company. I kept close to the stream from Stuor Reaiddávággi, which quite efficiently blocked access to the southern side, walking on nice heath up onto the rises making up the edge of the ravine carved out by this stream. I stopped by the rock at the top at noon to have some of the newly baked bread for lunch, which was as good as hoped for. I remained seated for a while, and even though there was sun further off the nearby area was covered by the shadow of a large cloud.
I tried out mobile connectivity and got a signal straight away, faint as it was, and checked a few contacts. I then proceeded over to a smaller ravine now only containing bushes, skirting its edge down to the flat expanse where I came upon the Nallo path. This I soon left, walking across the heath, coming to another Nallo path (yes, there are two) before going through/between some lower shrubs out to the brink of Visttasjohka, which actually looked somewhat fordable here if need be. I returned to the bridge close to the water, having to circumvent denser vegetation and some pools blocking the way at the end, scaring up a good number of willow ptarmigans in the process. I was back home at 13:00, seeing no traces of visitor activity.
I proceeded directly to the li'l grass beach of sorts a short distance downstream on the cottage side – this is where the snowmobiles pass in winter – and had a nice but cold bath. Due to this place's superiority compared to the other nearby options I then set about fashioning a sign to announce its existence; not the prettiest contraption, but fully functional. I sat outside reading, returning to this activity also after dinner, and it wasn't until later in the evening that a group of five people came by, but they elected to tent. It was a nice sunset, and I went for a photo round before listening to the weather forecast and reporting its contents to the group, supplemented with some advice regarding their coming stages.
---
Saturday 19/7
The night was mostly clear with some fog on the lows, and there was also another elk visit. After a peculiar dream involving mathematics and clandestine organizations I eventually arose later than usual, feeling tired, to large clouds hugging the peaks. A couple of people and a dog had arrived late and let themselves into the lower cottage, and they took their time getting up, so I spent most of it outside in the steadily improving weather. Now the elk was back, and apparently it had a certain fondness for fireweed (rosebay willowherb), cow parsley and garden angelica. It made its way around the lower building, where these grew in large quantities, and the three of us bipeds watched it from very close range for an extended amount of time. Nice!
It was not until after lunch that the dog people left, and in the meantime I had acquired a couple of day visitors who wanted to escape the midday heat. I sawed through half of the remaining pile of logs, adding to the already considerable stacks of firewood, and after an afternoon snack lay down to rest. Another dog couple then arrived, this time with three canines, and in the end they split between outdoor and indoor accomodation (to wit, the wife slept inside, so that the dogs got to sleep in the tent).
After dinner there were more visitors, and most of them wanted to shop and then camp across the stream, so a small tent village was forming there. One guy with quite a heavy pack announced his plans to remain for a few days and make shorter tours, but decided to take one night inside before moving out into his tent. The evening was pleasantly cool, and I spent some quality time outside with some of the present guests, and was then amused by the Humoristic Radio Forecast Reader I've previously taken notice of before it was time for bed.