Thursday 1/7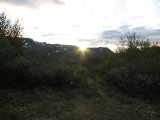 Answering a very early nature call I was treated to the rising sun, but it almost immediately passed into a bank of clouds. I then slept right up to the morning weather report, and after another answered call I rested to 8 o'clock. Now clouds were coming in from the southeast, obscuring the sun once more, and around the Norwegian peaks there were also clouds for the most part. There were drifting clouds about the lower peaks too, but as is their nature they kept shifting, and as the morning went by it looked like they were all pulling apart more and more. I bided my time for a while, observing tendencies; it was difficult to make a firm judgement regarding the rest of the day, but it felt like things were getting lighter, even though a large bank had positioned itself in front of Nuorjjovárri/1727. I therefore decided to go for a day tour in the opposite direction, and set out wearing the wind jacket around 10:15.

Go to day tour report »

Looking into the guest cottage I found no hints of visitors, present or departed. It was still windy and not that warm in the air when the sun was not shining, but the water from the hose was still at least lukewarm. Now clouds were gathering around Storsteinsfjell as well, and the ones pouring over Rádječohkat continued to grow. I relaxed inside with the radio, looking at both Nuorjjovárri/1727 and Ruovssuk being hidden, but apart from all that the sky was nearly clear. In the evening the sun began to hide itself behind the billowing clouds to the west, and the wind was decidedly chilly. I read in my book and listened to the radio, and later on the clouds also started touching the Sjangeli rise, but the lowest parts of the western areas were beginning to reappear instead. Both these processes continued as I moved into bed at 22:30, at which time the wind had also decreased a little.
---
Friday 2/7
The next morning the clouds were still low, and now they covered everything. When I went up to the guest cottage I was surprised to find two young people there; they were Australians (or actually one Swiss) who had arrived very late (or very early), and simply spread out their sleep mats on the floor to rest for a few hours. Now they were in the process of having breakfast, and would then go on to Cunojávrihytta. I sat down and talked with them for a long time, and eventually the sun broke through – in fact, it even looked like the sky would grow clear before long. The time was almost 10:45 when they left, carrying heavy packs due to a self-proclaimed interest in food. The clouds were retreating more and more, but they still blocked quite a lot on the other side of the border and towards Rádječohkat. I thought that a little lunch tour would be in order, and left for one around 11:45.
I walked over to a marked rock hill beside the western trail, and once there I realized that pretty much the whole southern side of it had been quarried. I made my way up to the top where it was quite windy, but the view was nice as was the warming sun. I sat down to eat and then stayed put for a long while. Nuorjjovárri/1727 were emerging, but a new high front was coming from the west. This turned out to be in the form of "wads" when it arrived, so it only intermittently occluded the sun, and in the middle of it there was a curious formation which I thought looked kind of like a Mandelbrot visualization. At 12:45-ish I arose and walked back along the ridge, wanting to check out some other mine traces below.
Then I turned westwards again, passing the hill on the northern side, where there were lots of cloudberry plants. I walked around a tarn and up onto the next little hill, and then onwards among the various small rises strewn about the valley here. As I walked the ground grew drier, and the weather better, and off to the east Abiskoalperna were showing in full. Soon I reached the start of the northern slopes, and I went upwards on nice heath between flat rocks. Now it was warm enough that I had to take off the wind jacket, and I found the landscape very appealing. I came up onto a ridge where there were some large cairns, which may or may not have been informal border markers, and from there I had a grand view of Čunojávri – the scene was virtually perfect with the lake sprawling before the broad, flat basin of Stuorjalga with steep but rounded slopes leading up to glaciers and snowy peaks behind.
I stood there looking at it for quite some time, and with my binoculars I surveyed both my cottage site and the Norwegian one as well as the trails I could make out, but saw nothing moving anywhere. At last I turned into Sweden again, following a clear but narrow path which turned into reindeer tracks and then nothing. Also in this direction the view was attractive, but differently so, and the heathland similarly pleasant. I slowly made my way downwards, walking both more reindeer paths and wet or shrubby ground, and all the while it was getting warmer even though the sun was about to pass into another bank of wads. I came to a connection brook between some of the tarns below the buildings, and after passing this easily I went up onto another rock hill with more mining traces. From there I followed the little path to the warden's cottage, arriving before 15:00.
No one seemed to have been by in my absence – which would have surprised me seeing as how I had had a free line of sight to the place pretty much all the time. I went on to have a shower, and after the first lukewarm liters had been flushed out it actually turned warm – the long black hose having been shone upon all day – but the wind prevented it from being entirely awesome. I took it easy with the radio, and soon the quarter-final between Brazil and Holland started, to which I had some popcorn for good measure. It was so nice outside, however, that for the second half I relocated to the western wall, leaving the window open to let the sound through. When the sun passed into yet another bank of wads from the east I went in, but a bit later it was back to sunny, so I returned to the wall again. The game turned out to be a stirring one, and when it had ended I had dinner against the wall as well, which was more than great – and now I definitely felt that it was summer.
Just after I had finished I heard voices, and then three Finns came from the east. They would not be spending the night, however, and after a visit to the shop they started making dinner outside my cottage. I spoke with them while they did so, and now it was very warm indeed outside. When the trio had eaten another two Finns came from the west, of which one spoke fairly good but slow Swedish. I talked some with them, inquiring about the Katterat route, and after tipping them off about water sources and suitable campsites nearby they carried on (and only later did it occur to me that I could have sent my letter with them, as they were headed for Abisko). The other three were just packing up, but took their time getting ready to leave, since it was such a wonderful evening. Then I could turn to my dishes and the second quarter-final of the day (Uruguay vs. Ghana), and once I was done I lay down in bed.
In the break I went out for a walk, staying until the sun descended behind Ruovssuk, and then it was time for the second half. The air was entirely still, and the water-scooting insects upon the otherwise undisturbed tarns gave the impression that it was raining. The game was tied at full time, so it was extended, and I continued to listen to it in bed; I couldn't well turn it off now. The end of the allotted extra time was very dramatic, with a missed penalty for Ghana in literally the last second, so then it was to be decided with penalty kicks. This turned out in Uruguay's favor, and I felt very sorry for Ghana, who were so very close to boldly going where no African team had gone before. There was once again a pretty light on the Norwegian peaks, which called for some photography. The air had cooled down considerably, but there was still very little in the way of wind. It was as late as 23:30 when I finally turned in, and I was happy to do so since I had been feeling somewhat weary for hours already.
---
Saturday 3/7
Early in the morning there were some of those peculiar clouds in the sky that I had seen in Vĺlĺvalen, but they were not fully as impressive this time. Later I caught the very end of the weekend nature program, which happened to be broadcast from the fjelds, and then I simply looked at the clouds. They did not extend a complete cover, and there were glimpses of sun upon Storsteinsfjell and Nuorjjovárri; it was also fairly warm outside. I took to mucking about (literally) in the privy; not too pleasant a task, but a needful one, and the result was good. One of the compartments had been closed during the winter, due to capacity problems, but now I could open it up again. Having completed this I went inside again – a dark haze had been growing to the west, and now some drops were coming in the westerly wind.
A short shower hit just before lunch, but after that things started looking up again. When the sun reappeared I went out for a while, but there were still some drops in the air, and as soon as the clouds closed the gap I went in again. There I read in my book until the sun came out once more, and since it was now rather warm I sat myself down against the western wall of the building and continued to read. Also this outbreak of fairness was temporary, and once inside again I rested to the point of slumbering, and then it was time for the Argentina–Germany quarter-final; this time around reception of the Swedish channel was good enough. In the break I went out for a short stroll, since it was sunny once again, and looking eastwards it seemed as though "the blue hole of Abisko" was in effect as usual. Then it was time for the second half, and dinner.
It was still pleasant outside, and I stood or sat for some time, looking at the improving weather to the west. It was mostly sunny, but more dark clouds were rapidly coming in, and soon it was back to glimpses and breakthroughs. I read some more and then went back and forth between the Paraguay–Spain match and the rerun of the morning's nature program; the former turned out to be quite dramatic, so I ended up following that to its end. Looking out my window I saw both a clear sky and, closer by, some lemmings scurrying about around and underneath the swill disposal. There was virtually no wind, but it was still cool, and after having a last look outside I went to bed around 22:45.
However, later in the early night I had to get up to take a leak (as so often happens), and found the serene wilderness most pleasing, even though there was no midnight light upon the peaks. This process was repeated on the other side of the date change, and by then the clouds had disappeared and the peak-light was marvelous. It was not a quiet scene, however, for I heard the Goržžijohka waterfall roaring in the distance – the not too distant distance, as it seemed. I was tired, though, so I did not remain up for too long before hitting the sack again.
---
Sunday 4/7
When morning came it had grown cloudy, however, and I slumbered away until 9-ish. Soon a shower appeared at Nuorjjovárri/1727, and it closed quickly, but came in the shape of a mere drizzle. After 11 it had stopped, and I went out on a fishing tour. I followed the little path leading down between the tarns, and started fishing in the closest one. There were some mosquitos about, but they gave no trouble. I continued up onto a cliff where I had a high casting position, and then went on around the same tarn. The rain had picked up again, but it was light enough not to be of concern, and there was no wind either. I proceeded over to the next, smaller pool which is basically a division of the tarn I had been walking along and started to cast there.
It was a bit too shallow for comfort, and after nearly getting stuck at the bottom I changed direction – and quickly felt heavy resistance in the other end. At first I momentarily though that I had indeed caught the bottom, but then I realized that it was quite a large fish, and I had to work a little to reel it in. This was a beautiful arctic char which I estimated to be about 35 cm in length, which was perfect for me. I gutted it at once in the rain, which decreased and then increased again, and then sat down for lunch on a rock. It was still raining, but it did not bother me at all; it was light enough to feel, well, fresh, and I sat looking at the drops striking the calm surface of the water. Eventually it petered out, and since I was in need of no further catch I packed up and started walking back. As I did so it was looking really bad off to the west, and just when I returned to my cottage at 12:45 a new rain hit.
I stayed indoors listening to the radio, and a bit later I thought I heard a distant sound, but then it vanished. Soon it returned, and it was clearly a motor of some kind, but it took a while before it resolved into two ATVs (and a dog, albeit silent) coming from the west. These were Sámi residing in the Goržžijohka reindeer-watching hut, and they had been out collecting reindeer thereabouts as well as well within Norway. Now they wanted to buy some candy and soft drinks, and we talked a bit during; the elder fellow even recognized me from Vistas. According to them there were quite a few people in the Norwegian cottages, but for some reason they did not seem too keen on crossing the border as I was now on my sixth consecutive day without guests.
Then they got onto their vehicles again and drove up to their place, and I returned to mine to watch the gloomy weather through the window. The intensity of the rain was not constant, but it never stopped, and things were getting worse all the time to the west; the clouds were sinking as well. Close to dinnertime there was a break in the rain, and speaking about dinner I naturally prepared the fish; it was almost too big for the frying pan, but the result was very much to my liking.
Again the west looked bad, and there was more rain afoot. I spent the evening with radio and reading, and now things were starting to brighten in the west, but the clouds were very low. Later on patches of clear sky appeared in such a way that sunlight was let through, so I went out for a bit. It was still cloudy for the most part, however, and the base was still low. At 22:15 I thought that the day was at an end, and acted accordingly.
---
Monday 5/7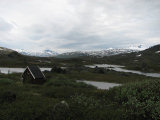 I opened my eyes at 07:45 and saw much clouds but also a wee bit of blue sky. After having breakfast I did some cottage-related work, and then I turned my attention to the woodshed door. Having already found the missing part atop one of the piles inside I went to get some tools, and then set about repairing the door. It was fairly windy, and while I worked some drops started falling, but that was as bad as it got. When I was finished the thing felt stable enough, but unfortunately it had now become a bit too broad because I could not fit the broken beams together precisely, so for the time being I still had to use the log to keep it shut.
The drops were now more numerous, and things looked quite bad to the west, so I went inside for a while. When the worst of it had passed I got back to work, planing the edge of the door so as to make it fit, but I now realized that the pieces I had used to secure the parts were also in part preventing the door from being fully closable. I therefore set about adjusting or moving them one at a time, and in the end I got it right without sacrificing stability. Then it was just a matter of planing away until it fit, and after a while I had a fully functional door again.
Just then a single hiker walked up the hill, and from his heavy accent I judged him to be German. He had walked from Riksgränsen, which he said was a very arduous affair with lots of snow and full streams. I specifically inquired about the infamous Valfojĺkka ford, but that at least he had had no particular difficulties with. Soon he went on towards Norway, heading for Ritsem (eventually). The weather was improving, and the sun was coming out, so I sat down for lunch against the wall of the warden's cottage, where I was sheltered from the easterly wind. The clouds soon returned, however, but since I was still protected I sat still for a bit longer, looking out towards Nuorjjovárri; Storsteinsfjell was partially hidden, though.
Back inside I listened to the radio and read in my book, and after a short walk during a period of better conditions I had afternoon tea. After that things got better on the whole, and the wind switched back to its usual westerly source. This brought a new rain from that direction, starting out as a very heavy shower at Nuorjjovárri/1727, but when it reached me it was only light. On the Norwegian side of the border it looked considerably worse, but towards the east the weather was somewhat nice instead, and I was sitting right in between the two.
During dinner there was a heavy but short rain, and soon thereafter another... darkness approached rapidly from the west. I stood outside until it hit – and what a hit it was; the rain really hammered against the roof and window. Before long it started to diminish, and the sun was coming out. Walking around a bit I found (surprise, surprise) that the ground was very wet, since it had not had the chance to absorb all that water, and more was to come. I spent the evening reading, and at no time the clouds lifted. Instead the rains kept coming in the west, and as I drifted off to bed at 22 it started again overhead.
---
Tuesday 6/7
The night did away with the rain, and when I got up it was semi-clear and warm but also windy. I prepared to go for a day tour, but held off for a bit while looking at the clouds; they were in a shifting state, and in over Norway they seemed more persistent. When I went to fetch water I also noticed that that coming from the hose was already quite warm, and I had to let it run for a good while before fresh, cold water from the tarn started coming. After consulting the map some I put on the wind jacket and left around 10:15, having decided on an ascent of Ruovssuk.

Go to day tour report »

When I went up to have a wash I saw that the light on the antenna for the assistance phone was flashing, so after finishing up and looking around inside (still no visitors) I called the police to see what was up. Apparently one of the newly arrived Alesjaure wardens was missing some of her stuff, so they were now checking with the other cottages in the area to see if there had been a wrong delivery at some point. I couldn't remember seeing anything out of place, but I went out and rummaged through the storage space thoroughly to confirm, and then related my (lack of) findings. I spent some calm time with the radio and a wee snack, and then I caught sight of a couple of people on the Norwegian trail, but they were moving away rather than closing in. Towards Abisko the sky was mostly clear, but otherwise there were quite a few clouds about, even though all the peaks were showing.
In the early evening the clouds on the Norwegian side of the border started descending, and a large one crawled before peak 1727. I rested for a while as the sun made sporadic visits, and when it grew lighter I went out; the wind was decreasing, and it felt nice standing outside. The clouds were very slowly passing into the north, and later on the Norwegian peaks were once again in the clear. Then it was time for the first semifinal, between Uruguay and Holland, and fittingly enough reception was good on the Swedish side. I listened through to its completion, and even though it got somewhat exciting towards the end Holland came out the clear victors. Outside the only clouds remaining were found on the other side of the border, and even those were in the process of lifting when I retired at 22:30.
---
Wednesday 7/7
Those clouds remained the next morning, however, but they were mostly situated above the summits, and otherwise it was warm and fair but slightly windy. As I was letting the warm water run again it suddenly ebbed out, so I immediately went to get the pump and my thingie and then climbed the slope to the source tarn, checking the condition of the hose on the way up. Once there I found that the end constituting the intake had floated up to the surface, which had caused air to intrude into the system and thereby ruined the pressure. This was easily fixed, and after pumping up said pressure again I tried to anchor the hose better. Back down I took it easy for a while and then went out on a tour at 10:15, not wearing any jacket since it was warm enough anyway.

Go to day tour report »

After ascertaining that no, there were still no guests, I went down to get some stuff needed for a shower, and then enjoyed a warm such. Afterwards I sat on the adjacent bench for a while, looking out over the Norwegian fjelds which were acquiring more and more clouds, and when the sun passed into those I returned down to my cottage.
Soon thereafter a single man walked in from the east, but more were coming, although they were not to stay. They were three all in all, the latter two having been partially thwarted by Ruovssokjohka, and one of their first questions was about how best to get from Unna Allaks to Lĺktatjĺkka and then down to the railroad by Friday(!), since they had a transport to catch then. We talked for a while, and since they were or had been military they were interested in the place's history as a watch base during WWII, when Norway was occupied by the Nazis, so we went up to the main cottage where there are some information signs and old photos. After visiting the shop they sat down outside my cottage for a snack, and I myself went inside to have dinner.
When I was done I returned outside to talk, and now they had decided to try for Riksgränsen directly instead so as not to chance it overly. Eventually they left in that direction, and by then the sky was almost entirely clear, with only a few high veils far to the west. I went inside and rested, and once again it came to me that I had missed an opportunity to get rid of the letter. I walked around a bit in the fair but soon-to-be-chilly evening, and then settled down with my book and the second semifinal (Germany–Spain). The western veils were approaching rapidly, and the sun was obscured by a dense one before it set; those veils then passed on, but new high layers were coming in behind them. Spain won the game, and when the time was approaching 22:45 I turned in.